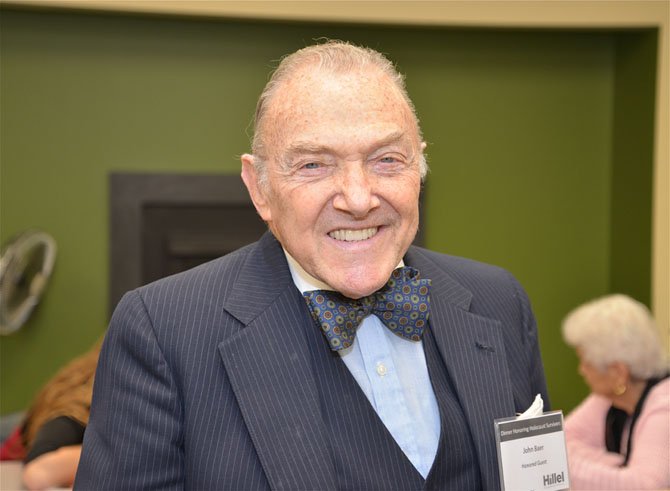 On Nov. 13, George Mason University's Jewish student association, Mason Hillel, organized and hosted "Expressions of the Holocaust: a Dinner Honoring Survivors." The date for the event was chosen with care – just days after the 75th anniversary of the Nov. 9 -10 Kristallnacht – "Night of Broken Glass." In just two days in 1938, almost 100 Jews were killed, nearly 1000 synagogues were damaged or completely destroyed, thousands of Jewish homes, businesses, schools, hospitals and even cemeteries were looted and vandalized by rioting mobs in Germany, Austria and Sudetenland and some 30,000 Jewish men were arrested and sent to concentration camps like Dachau and Buchenwald, both of which had to be expanded to accommodate the influx of prisoners. As Natalie Roisman, President of Mason Hillel's Board of Directors noted in her welcoming address, many scholars and historians consider Kristallnacht to be the "watershed moment, leading directly to the Holocaust." This rampage against the Jewish community marked the beginning of violence as a recognized and legalized tool in the Nazi arsenal against the Jewish people. German Jews were already being subjected to ever-increasing restrictive policies prior to Kristallnacht, but it was not until after that event that violence and mass arrests became the norm, especially since most of the German citizenry had reacted passively to the brutal actions of those 48 hours.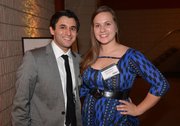 SEVENTY-FIVE YEARS AFTER those hours of destruction and despair, the young men and women of Mason Hillel, with their leader, Executive Director Ross Diamond, and the support of the Student and Community Boards, decided to "both build a bridge to the past for the local community and help keep us to our promise of Never Again," as Diamond described their vision. So the "Expressions of the Holocaust" Committee, chaired by Hillary Dallas, went to work to organize an evening of thematic art, music and poetry to honor more than 40 local survivors of the Holocaust and the memories of the six million lost to the Nazi's "Final Solution" to the Jewish Problem.
Before the program officially began in the HUB Ballroom on George Mason's Fairfax campus, many of the honored guests spent time with the Student Ambassadors chosen to guide and assist them throughout the event. In "VIP" rooms, the survivors answered questions and spoke openly about their experiences and the losses they endured. John Larry Baer (formerly known as Hans Lothar Baer) acknowledged the trials his family endured, but focused on the positives. Sitting next to Shirley, his wife of 50 plus years, Baer handed out his mini-autobiography entitled "A Grateful Refugee Kid's Recollections" and declared, "It's been a good, rich and rewarding life in my adopted country, which gave me a life and a career."
Jacqueline Mendels Birn, whose story is included in the Tribute Book produced for the event, tells of her family's flight from Paris in 1942, just after the round up of 13,000 Jews in the city. Most were held in deplorable conditions in a sporting stadium and later bussed to internment and concentration camps where most were put to death. Birn, her father, mother and sister narrowly escaped arrest on a number of occasions, frequently hiding in cellars, chicken coops and even the open woods. But, like Baer, Birn considers herself fortunate. In her memoir she writes, "We now count approximately 200 members of our extended family that were murdered, gassed, shot or died by exhaustion as slave laborers."
This interaction between survivors and students was a critical element in the organizers' mission. "Many who could bear witness to the atrocities of the Holocaust are lost to us now, either during those days or through the passage of time," said Board President Roisman. "This is probably the last generation that will be able to hear these stories first hand…so we do this here on a college campus, so that this generation can be educated and empowered to combat anti-Semitism and genocide over the course of their lives."
"Having an opportunity to hear from a Holocaust survivor was something that cannot be recreated nor explained," said Melisa Treshnjeta. She is a sophomore at the university and is the Holocaust Education Fellow intern. Treshnjeta and Hillel Events Production Chair Taylor Kreinces were among the many students who devoted hours before and during the event to ensure a successful program.
MORE THAN 300 packed the HUB Ballroom on George Mason's Fairfax Campus, including the survivors and their families and friends, members of the University's staff, the Hillel administration, students, members of the greater community, and other honored guests, such as Virginia Delegate Eileen Filler-Corn (D-41). Talented George Mason University students treated the assembly to a number of musical performances, including the university's first and only all-female a cappella group, Noteworthy, who sang both the National Anthem and the Hatikvah, Israel's National Anthem.
After the dinner (provided by the Kosher Kitchen Catering Company) two of the honorees, both volunteers at the United States Holocaust Memorial Museum, took to the stage to share their stories. After enduring the hardships of being rounded up by the Hungarian authorities and forced to live with hundreds of others in an old brick factory with only one hand-dug outside latrine for a restroom, Irene (Fogel) Weiss and her family were deported in 1944 to the Auschwitz-Birkenau camp. When they arrived at the camp, the Fogel family was "processed," like all the others sent there. Her mother, her older brother and three younger siblings were killed. Irene and her sister were chosen for forced labor. Her father was killed later, when he was no longer able to perform his assigned duties. At the time of her arrival at Auschwitz, Irene Fogel Weiss was 13 years old.
Although willing to speak of the horrors they witnessed or personally survived, the honorees all seemed equally eager to listen – especially to the young Student Ambassadors hosting at each table, and to enjoy the evening, the program, and the company. One survivor, originally from Poland said, "Once I thought there would be no tomorrow. But here it is, thank God, and here are these young people who will make more tomorrows. It's good."
Any funds raised from the event, including the silent auction of framed prints of paintings by Dr. Pat Mercer Hutchens, inspired by photographs from Auschwitz, tickets sales, tributes or sponsorships are targeted to help underwrite a future Holocaust Education Fellow position at Hillel. The group hopes to see the creation of a Genocide Studies Program at George Mason University and possibly even ultimately endow a professorship in Holocaust Education at the school.
More like this story