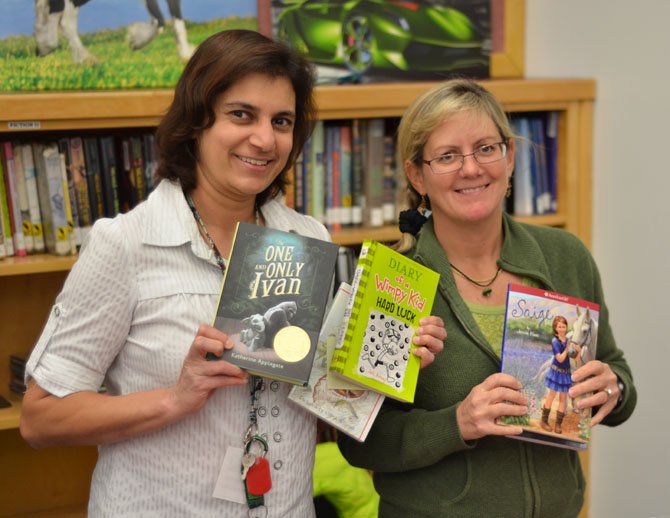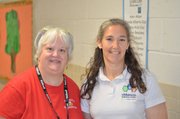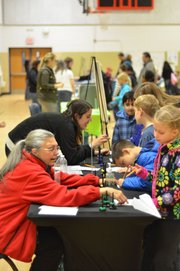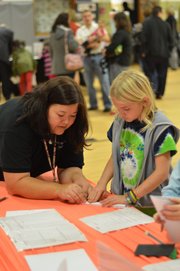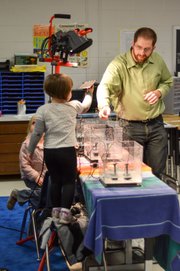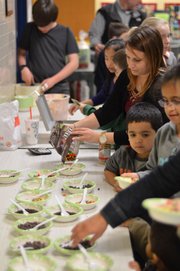 "This event is so very professional and informative. Everybody can learn something."
-- Eva Ozkaptan
Science Night at Herndon ES
Herndon Elementary School opened the evening of Nov. 18, for students and families to participate in the Family Science Night. Special guests that evening were the Children's Science Center, which set up 12 hands--on stations or a mobile lab in the gymnasium for kids to witness and view science related matter. "This is our first time inviting the Children's Science Center to Herndon Elementary," said Elizabeth Gibson, teacher of Advanced Academic Resources.
The Children's Science Center is an interactive children's museum planned for Northern Virginia focused on math and science. Their objective is to excite children in science and engineering learning and exploration through use of an interactive hands-on medium. "We have 12 different activities all geared towards different grade levels," the center's Senior Science Educator Michelle Avda said. All the persons working at the mobile lab stands that evening were volunteers or staff with Herndon Elementary. "It is great for the children to see their parents and teachers in a different role," Avda said.
Herndon Elementary technology specialist Sue Powell and first grade teacher Katie Mirro were operating the Binary Code Exploring Computer Memory stand. "I think it [the science night] is exciting because it gives kids a lot of hand on experience with different science concepts," said Powell. Other stands included one on fingerprint analysis and another on series and parallel circuits.
"This event is so very professional and informative. Everybody can learn something," said Eva Ozkaptan, who brought her daughter Ellen to attend the Science Night. "It is a great educational event for kids to get more exposure to science, they get great hands on experience," said Herndon resident and parent Rose Dela Cruz. Two side events were classroom presentations on movement in robotics and solar energy.
The presentation "Bright Ideas: Exploring Solar Energy" was led by founder of The Three Birds Foundation, Joe Plummer. Plummer discussed fossil fuels and renewable energy, and invited his listeners to view the solar energy display he brought to the classroom. The Three Birds Foundation is committed to ensuring every student in the U.S. has learning experiences with renewable energy before graduating high school. "We have been trying to collaborate with the Children's Science Center as much as possible," said Plummer. "I think Herndon is really developing an identity about science and sustainability."
Two other events occurring that same evening were the opening of the Herndon Book Fair operated by the school PTA, and the Student Council Association (SCA) Ice Cream Social in the cafeteria. "Our book inventory is a lot more than last year," said PTA member Joanne Lyons. The earnings from this sale go to the Herndon PTA which funds field trips, special assemblies, as well as classroom equipment. "We welcome everyone to come in and browse our book fair selection," said Lyons. The school book fair ends Friday, Nov. 22.
To learn more about the upcoming events at Herndon Elementary School, visit www.fcps.edu/HerndonES/index.html.