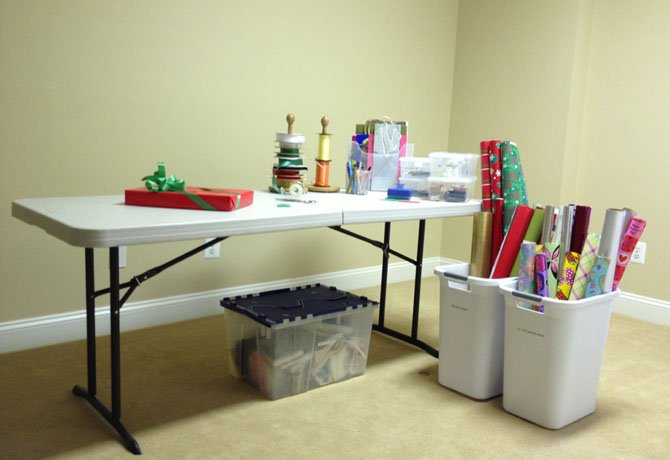 "If you're organized, you'll definitely experience less stress this holiday season," said professional organizer Susan Unger, of ClutterSOS in Vienna. "If you figure out what your goal is and map out everything in advance, you won't find yourself staying up late wrapping presents and other chores and you'll have more time to spend with family and friends."
Local professional organizers say the key to an organized holiday is planning ahead and keeping it simple. While that may sound like an impossible task, they offer suggestions that will minimize stress and maximize merriment this season.
One key is planning ahead and keeping it simple. "Decide what traditions are most important to you and stick with those," said Fairfax-based professional organizer Eileen LaGreca of Sensational Spaces. "People have this ideal of what Christmas should look like and that is not reality, especially in today's world where people are working hard."
When it comes to holiday event and party planning, organizers say don't be afraid to delegate. "A couple of fun ideas to save you some holiday headaches are to have a party as an open house," said Arlington-based professional organizer Jody Al-Saigh. "It's a little more free flowing and people can be more flexible with their busy schedules [and] their kids' activities."
Hire people when possible, suggests LaGreca. "If you're having a party, hire people to clean. That is one less thing you have to do," she said. "Enlist the help of others, have family members bring food, let others help decorate and enlist the help of your children."
"Another idea is a cookie-exchange party," Al-Saigh said. "Again, your gift [or] party favor is built in. You just bring a batch of cookies and everyone swaps and goes home with a great new assortment."
When it comes to meal planning, keep detailed lists. "Figure out your menu to the tee and list every ingredient you need," said LaGreca. "What you don't want to do is run out the door at the last minute for a pound of butter that you've forgotten. That is very stressful."
Holiday shopping can be another source of stress say organizers. "I take inventory of what I am going to buy [and for whom] and make a list to go shopping," said Unger. "Make a list of everybody you need to buy gifts for, go to the mall when it not busy or crowded and you don't have to wait in line."
Unger recommends using a smart phone to help simplify gift shopping. "I like using Evernote, an application that you can access on your smart phone, computer or tablet that consolidates information and ideas and allows you to share it with others," she said
When it's time to wrap those presents, Unger suggests creating a wrapping station so all supplies are visible and easily accessible. "I have white round baskets to store wrapping paper so that it is easy to see," she said. "I have a paper towel holder that I put my ribbons on."
Color coordination is another time-saving trick. "I stick with red green and white with my papers and ribbons," she said. "If I stick with three primary colors that cuts down on the supplies that I have to buy."
To save money, you can even create your own wrapping paper. "Something I have done with kids is use a large sheet of butcher paper, [which] comes in a roll from craft stores and have the kids decorate it," said Al-Saigh. "For holiday time, they could add stickers or do holiday drawings. This is a great personal way to wrap presents for [family members]."
To make the holiday card process more efficient, Unger suggests designing cards on a home computer. "I can design cards [with] my own captions and fonts," she said. "You can do letters in your own handwriting. I use sendoutcards.com. They print, address, stamp and mail them for you. You can also include gifts."
Decking the halls is most efficient, say organizers, when holiday decorations are easily accessible. "I have my decorations stored on workforce shelves and I have big clear bins," said Unger. "I put all the decorations for each room in one box. I have certain things I put in my living room and things for my dining room and a bin for each."
Al-Saigh likens creating a festive holiday to putting on successful play. "[There are] scripts, props, scenery, lighting, and you're the director," she said. "Create a holiday binder or accordion file with sections for cards, crafts, décor, food, gifts, parties, menus, lists, songs, traditions and budget."