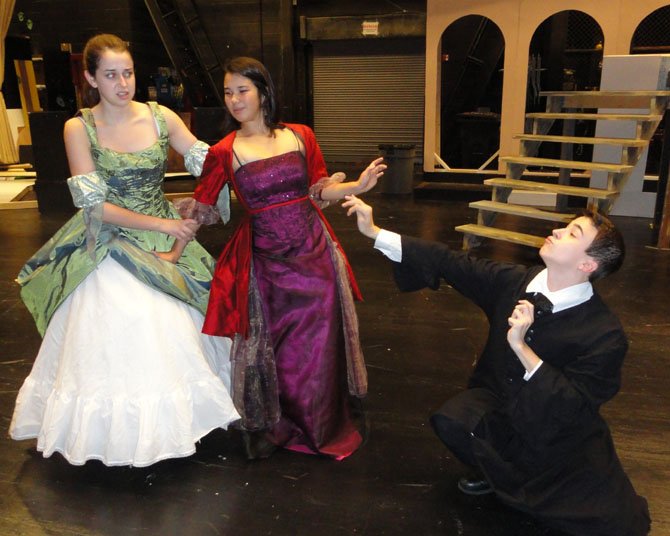 A love triangle, comedy, colorful costumes, plot twists and swordfighting — it's all there in Westfield's production of Shakespeare's "Twelfth Night."
The curtain rises Friday-Saturday, Nov. 22-23, at 7:30 p.m., and Sunday, Nov. 24, at 2 p.m. Tickets are $12 at the door or $10 via www.westfieldtheatreboosters.com.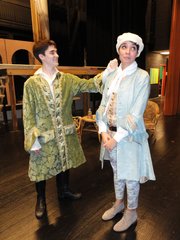 There's a cast and crew of 35, and Director Shannon Lynch says her actors are "ready to go and eager to take risks and prove themselves. They have a lot of stage presence and innate, star quality already, so they're comfortable and know how to play to the audience."
"They're confident in their skills and talents and know they possess a strength and charisma rare for high-school students," she continued. "And they have a great reverence for theater — they respect and take it seriously. They know it's special and are proud of their program and what they've accomplished."
In "Twelfth Night," set in the late 19th century, Viola and her twin brother Sebastian are shipwrecked and separated, and each assumes the other's dead. So Viola calls herself Cesario and dresses like a young man so she can get a job and figure out how to reclaim her former life. She was of noble birth, but lost her hold on that life in the shipwreck and has no way to return home.
Viola lands on the island of Illyria, where people take a liking to her as a male. She misses her brother, but becomes a messenger for Count Orsino and falls in love with him. But he's in love with Countess Olivia — who's in love with the young man she believes Viola to be.
Junior Zoe Hawryluk, playing Viola, calls her a "strong, confident woman with charisma. She's true to herself and has lots of empathy. I can identify with her because I'm also a strong individual and can use my wits to interpret and figure out different situations."
Delighted with her role, Hawryluk said, "I love Shakespeare because of the beauty of his language and descriptions. It's also my first lead, so I'm excited that it's Shakespeare." She said the audience will like the show's energy. "Everyone in the cast is so talented; they all bring their own, personal quirks to their characters," she said. "And there's never a dull moment — it's enrapturing."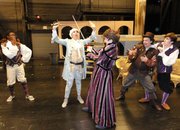 Hawryluk said it's also "cool to see how high-schoolers interpret Shakespeare; the audience is definitely in for a treat. The costumes are based on late 19th-century, European and American fashion. But there's also an element of steampunk, modernizing them with leather and metal — we're making Shakespeare sexy."
Portraying Malvolio, Olivia's right-hand man and master of the household, is senior Julian Sanchez. "He's a stone-cold curmudgeon who dresses in all black and scoffs at the fun some of the characters are having. But some other characters trick him into making a fool of himself."
Sanchez auditioned for this part, he said, because "my roles last year showcased my broad, comic skills and deep vulnerability. So this time, I wanted to explore different types of characters I haven't played before. And Malvolio has subtle comedy and an antagonistic nature."
He says the audience "will not only enjoy the hilarity of the story, but will leave with the knowledge that love can be a glorious thing, but also may come at a price. And they'll definitely see the heart in this show — it's very touching."
Senior Zack Walsh plays Olivia's uncle, Sir Toby Belch. "He used to be a knight, but let himself go a bit and is now old, fat and drunk," said Walsh. "He's rich and a nobleman who's always looking out for himself and just wants to have a good time, and not much else. That drives Malvolio crazy and makes Olivia disappointed in him."
Walsh loves his part because of its physical comedy. "I'll wear a big costume and will do lots of tumbling, falling and bouncing around," he said. "I even get into a couple swordfights. It's super-high energy, and I've never done anything like this before. It's so awesome, and I'm fortunate to be playing one of Shakespeare's best-written characters."
He said people will really enjoy the classic characters in a play with some iconic, Shakespearean lines and moments. "We also have such great physical bits, awesome actors and extravagant costumes," said Walsh. "The audience will have so much to look at and lots to be entertained by in every way, shape and form."
There's even transition and background music composed by students Abigail Martin, Danielle LaBar, Isaac Mantelli and Emily Tobin, plus music set to Shakespeare's lyrics and sung by T.J. Vinsavich as Festes the fool.
Portraying Olivia is junior Elizabeth Coo. "Her brother and father have just died and lots of people have let her down," said Coo. "So she's kind of pessimistic until Cesario — Viola disguised as a young man — enters the picture and she falls for him. Olivia's titled, very rich and beautiful and gets many compliments on her beauty. But she gets tired of hearing it and is looking for something more."
"I'm having so much fun in this role," said Coo. "Who doesn't love having everyone love you? Olivia changes and develops during the play and finds happiness, so it's nice to show her growth. It's also great getting to interact with all the other characters." She also noted that "Twelfth Night" is easier to follow than other Shakespeare plays.
"There's so much physical comedy that the audience will be laughing — they won't be able to help it, it's so absurd," said Coo. "It's a funny play with a happy ending, but not for everybody. And the actors put a sassy, modern twist on their characters that the audience will enjoy."
The scenes take place in Olivia's and Orsino's courtyards and a street, and a fight choreographer taught the actors to swordfight. "The costumes, set and colors make this play visually spectacular," said Director Lynch. "But since these students embrace the text with such an innate understanding of what they're saying, they can translate that physically and really bring the story alive."