Fairytale characters come to life, but in different and unexpected ways in Woodson High's upcoming musical, "Into the Woods."
Full shows are Friday-Saturday, Nov. 15-16, at 7:30 p.m. Tickets are $10 presale at www.wtwdrama.org and $12 at the door. Children's matinee (act one only, plus cast meet-and-greet) is Saturday, Nov. 16, at 2 p.m. Tickets are $5.
There's a cast and crew of 35, plus a 12-person pit orchestra and, "We have a super-smart cast really connecting with their characters. They worked on their music over the summer and came back to school really prepared," Director Terri Hobson said.
In the story, the baker and his wife want a child, but the witch put a spell on them so they can't have children. But she'll reverse it if they go into the woods and do her a favor. "While trying to do it, they encounter familiar fairytale characters," said Hobson. "By the end of act one, all is well. But in act two, they need to be careful what they wish for."
Since Stephen Sondheim's songs are "intricate and complicated, with clever words," Hobson said her thespians are doing an "amazing job [acting them out]. They're all talented vocalists with a great grasp of their characters."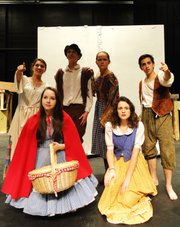 THE CREW BUILT trees, towers, ramps and bridges for the scenery, and the costumes and makeup will round out the ambience. Adding in the acting, said Hobson, the audience will "really become engaged in this wonderful, well-told story."
Student Director Faith Johnson, a senior, works on blocking, organizes rehearsals and helps the cast tell the story through songs. "I'm usually onstage acting, so this is a rewarding and interesting experience," she said.
Junior Lara Taylor choreographed the show and portrays the witch. "People generally don't like her," said Taylor. "But she has a strong sense of what's right for her and her daughter. She doesn't have much connection with the human world, except for Rapunzel, who she's raised as her daughter."
"She's challenging vocally because of her big songs and solos, and she's a complex character with lots of moral conflicts," continued Taylor. "I have to find her human aspects, so I put myself in her shoes to see why she does what she does. But it's fun and even has a song, 'The Greens Rap,' where she's rapping about her garden."
Taylor also likes the number, "Children Will Listen." She sings different versions of it, illustrating both the witch's and story's development. She said people will see well-known characters "in a more human light and identify with what they're going through."
Playing the baker is senior Joshua Reiter. "He grew up without parents and had to raise himself," said Reiter. "He runs the bakery with his wife and is extremely dependent on her. He stops at nothing to get a child, but tries to remain moral. He's a real person who makes mistakes like humans do."
Calling the play "incredibly well-written," Reiter loves his challenging role. "The baker goes through such an extreme arc, maturing and changing," explained Reiter. "It's great playing someone layered, well-rounded and more like a human than a character."
His favorite song is "It Takes Two," which he sings and dances with his "wife," Emily Bubeck. "This show's music is incredible and teaches the audience about compassion and being mindful of what they say to their children," said Reiter. "Every character's from a different financial background but, in the woods, they're equal."
Classmate Bubeck describes the baker's wife as "a sensible woman who really wants to be a mother. She's maternal and loving and looks out for people. She's my favorite character I ever played because she's so real – everyone knows someone like her. She also has flaws, so it's fun showing that, no matter how put together someone seems to be, everybody has weaknesses."
Bubeck also likes her solo, "Moments in the Woods," showing her character's vulnerability, "but in a way that makes you admire her." She said the audience will enjoy the "awesome" set and "interesting and complex plot. Everybody will take away something different from this show."
Sophomore Drew Bondy plays Jack in the beanstalk, who's perceived as not smart. But as he becomes a man, said Bondy, "He develops skills and people respect him more. He comes out of his shell when he goes up into the sky and meets the giants. I like this role because of Jack's transformation; it's fun showing those new qualities."
BONDY'S FAVORITE SONG is "Giants in the Sky" in which Jack "learns things about himself and sees a whole, new world outside his base – and that's when he transforms." Overall, he said, "Besides the amazing music, the audience will enjoy the show's messages about "greed and being careful what you wish for."