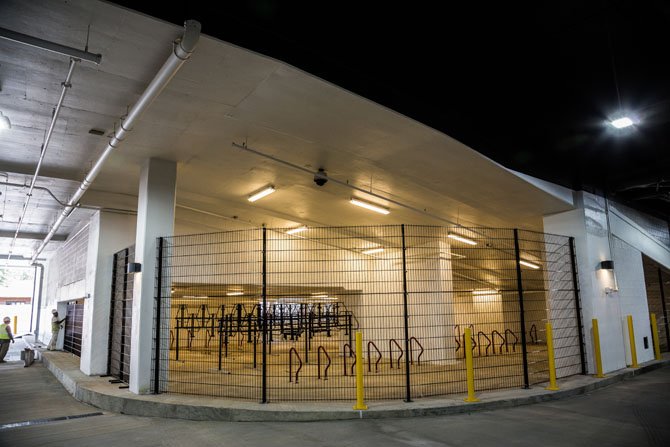 Reston — While the Wiehle Avenue Metrorail Station is the only Silver Line Phase One station to have a parking garage directly adjacent to it, room has been made for other modes of transportation.
There will be bicycle facilities on both sides of the station, but particularly at the Reston Station development, where there will be 208 bike racks. On the South side there will be 10 bike racks and 10 bike lockers, according to the Washington Metro Area Transportation Authority.
"We have a bike room, which is almost finished, probably 95 percent finished," said Charlie Strunk, bicycle coordinator for the Fairfax County Department of Transportation. "The bike room is secure, it's inside and it's gorgeous. It has capacity for 208 bikes, and it we ever need more we can reconfigure it to hold up to 300."
The facilities have a variety of equipment, including vertical racks, parking for bike trailers and oversized bikes and two fix-it stations for maintenance.
Strunk said there is also a strong possibility of a Capital Bikeshare station at the facility as well.
Capital Bikeshare currently has stations throughout Washington, D.C., Alexandria and Montgomery County, totaling about 1,800 bicycles. They are located in solar-powered kiosks with docking stations. Bikes can be unlocked by members with a special key.
Capital Bikeshare Bikes are three-speed, step-thru bicycles that have front and rear flashing LED lights, internal hub gears, fenders and chain guards.
"We have a funded grant to study the feasibility for Capital BikeShare in the Reston area," Strunk said.
In addition to the indoor secured bicycle area, there is another indoor room that is unsecured and has a permanently open door.
"We envision when Capital Bikeshare does come this room will be reconfigured for the Capital BikeShare pods," Strunk said.