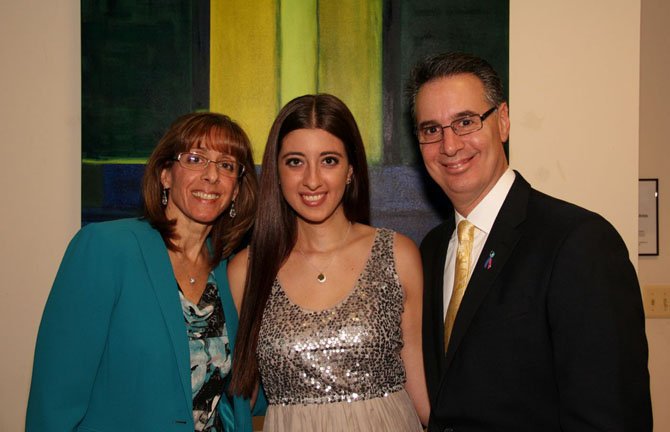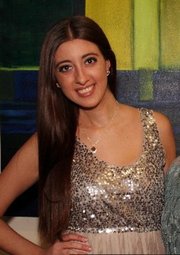 When she was 17, Chantilly's Nikki Ferraro was diagnosed with a rare form of thyroid cancer. It wasn't what she'd planned, but she attacked it head-on and continued fighting for others battling the same disease.
Before graduating from Chantilly High in 2011, she organized a Relay for Life team and raised $20,000 for the American Cancer Society. Later, she and her parents formed the nonprofit Bite Me Cancer Foundation (BMC), www.bitemecancer.org, to help teens with cancer and to fight thyroid cancer by funding research grants.
Throughout her own diagnosis, surgery and ongoing cancer treatment, Ferraro, of the Armfield Farm community, discovered there were several programs for children and adult cancer patients, but little geared specifically toward teenagers.
So since September 2010, BMC has provided teen cancer patient support bags she's filled with music, a special message from her and other items to help and inspire teens going through what she did. The bags are distributed to teens in hospitals.
Also included is a video program which has already received more than 4,000 views and provides ongoing support to both teens and caregivers via its private, online forum: Bite Me Cancer Cares and Bite Me Cancer Caregivers.
But it takes money to create and fill these bags so, on Sunday, June 9, from 5:30-8:30 p.m., BMC will hold its second annual fundraiser, "Take a Swing at Cancer," at the Dulles Golf Center and Sports Park in Sterling. More information and ticket/sponsorship details are at http://www.bitemecancer.org/take-a-swing-at-cancer.asp.
"I'm really excited about it," said Ferraro, 20, a rising junior and marketing major at JMU. "We've got things for both adults and kids to do — Xboxes, dance games, batting cages, 18-hole miniature golf, a driving range, basketball, beach-style volleyball, food and a deejay."
Meanwhile, funds have come in from other sources. To mark the three-year anniversary of Ferraro's April 6, 2010 diagnosis and her continuing victory over it, BMC held three fundraisers to celebrate everything she's accomplished in such a short timeframe.
During the weekend of April 6, the International Country Club in Chantilly held its annual 5K/10K run/walk and donated the proceeds to BMC. Later that day, the Nicole Miller store in the Tysons Galleria donated a percentage of that evening's sales to BMC.
The following day, Potomac Falls Lube Express and Car Wash held a car clinic for women and teens and gave BMC the proceeds. The three events raised $2,311, which Bite Me Cancer will use to provide more teen support bags and fund thyroid-cancer research.
Knowing that thyroid cancer is the fastest-growing cancer among both men and women in the U.S., one of Ferraro's first goals for BMC was to raise enough money for a two-year, $50,000 research grant to help advance the fight against thyroid cancer. When the campaign kicked off in 2012, BMC adopted "$50K for 50K" as its theme, in honor of the more than 50,000 people expected to be diagnosed in 2012 with thyroid cancer.
By April 2013, BMC was $15,000 short of that goal. But on April 7, Sara Barokas — a BMC Advisory Council member and a thyroid-cancer survivor, herself — stepped up and donated that last $15,000, along with her husband Ben.
"As a thyroid cancer survivor, I am committed to supporting Bite Me Cancer's thyroid research grant mission," she said. "Thyroid cancer is a serious disease that affects more people every year. Three surgeries, treatment with radioactive iodine, and several new tumors later have taught me firsthand just how critical finding more solutions for the treatment of this disease is."
Barokas said BMC and the people behind the foundation have been a "tremendous support" to her since her diagnosis. "I am deeply appreciative of the work they have done and continue to do," she said.
"This generous donation from Sara and her husband is a wonderful example of making a difference, as well as recognizing others for the good they have done," said BMC Advisory Council member Stephanie Eberhart. She said it's also a celebration of the strength and courage of Ferraro and others with thyroid cancer.
"We're so excited and grateful for Sara and Ben's donation," added Ferraro. "We'll be able to watch and see what happens as a result of that grant."
But with more than 60,000 people predicted to be diagnosed with this disease in 2013, she knows the work is far from over. So she said BMC will continue raising money to support a second thyroid-cancer research grant. Anyone wishing to contribute toward either the grant or the bags may do so at http://www.bitemecancer.org/Donate.asp.
As for her own health, Ferraro said, "I feel great." However, surgery may be in her future. "The doctors are seeing if I'll have to have outpatient surgery on my vocal cords so that it's easier for me to talk," she said. "I feel like I'm straining a bit, especially in noisy situations where I have to talk louder so people can hear me."
She said it'll be the third or fourth time she's had that procedure done because it's only temporary. But this time, doctors might be able to do something different. "If my endocrinologist gives me the OK after my scans on June 11, then I'll have permanent surgery on my neck," said Ferraro. "They'll put in a vocal-cord implant so I won't have problems talking."
She just added a notebook, pen, sodoku book and car magnet to the teen bags and redesigned the bags to make them stronger. "We're now starting to order the next 100 bags," she said. "Some will resupply Inova Fairfax Hospital and some will go to the M.D. Anderson Cancer Center in Texas."
Ferraro's also looking forward to the June 9 fundraiser. "There'll be lots of things to do," she said. "It'll be a great event and, hopefully, a nice day and lots of fun for everyone who attends."