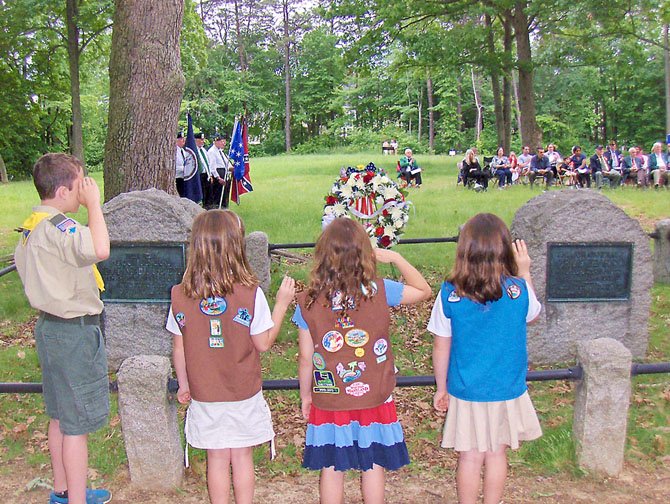 The Battle of Ox Hill was fought Sept. 1, 1862 in a torrential thunderstorm. When it ended, two key Union generals were dead and more than 1,500 soldiers had been killed or wounded.
It's the only major Civil War battle that occurred in Fairfax County. But, said historian John P. Murphy, "Since it happened two days after the Battle of Second Manassas and 16 days before Antietam, not many people know about it. It appears as a footnote in history."
However, Fairfax County preserved almost 5 acres of the 500-acre battlefield and, each Memorial Day, a ceremony there honors the fallen soldiers of the Battle of Ox Hill/Chantilly. The 18th annual ceremony was held Monday afternoon, May 27, on the historic site at the corner of West Ox Road and Monument Drive in Fair Lakes.
THE CEREMONY at Ox Hill Battlefield Park included music, a description of the battle and presentation of the colors and two wreaths at the Ox Hill monuments. Presenting the event were the Ancient Order of Hibernians (Father William Corby Division) and the Fairfax County Park Authority.
Murphy, a member of the Bull Run Civil War Roundtable and the Father William Corby Division, explained why the fray is sometimes called the Battle of Chantilly. He said the Northern Army named battles after the nearest towns and the Southern Army named them after prominent, geographic points.
"Confederate Gen. Robert E. Lee thought Maj. Gen. [John] Pope was going to make a stand in Centreville," said Murphy. "So he sent [Maj. Gen. Stonewall] Jackson's troops up to Northern Virginia to hold Pope's army until Lee got there to destroy it."
However, Union Army Maj. Gen. John Pope sent two brigades under the command of Maj. Gen. Isaac Stevens to block Jackson, and Maj. Gen. Philip Kearny's division joined them. By the time Jackson's army reached Ox Hill, they were tired, hungry and battle-weary—and Stevens' men attacked them immediately.
The battle ultimately ended in a draw, but, said Murphy, "If Lee had sent Maj. Gen. [James] Longstreet, instead of Jackson, it might have turned out differently. He had more men and they were in better shape. And if events were different at Ox Hill, it may have changed events later in Antietam or in the war."
Ox Hill Battlefield Park contains monuments to both Stevens and Kearny, and during Monday's ceremony, a Boy Scout plus Girl Scouts from St. Leo the Great Catholic School in Fairfax placed wreaths between the monuments. The Father William Corby Division presented the colors, and Kate Kane and Jenee Lindner sang while musician Stevie Morris accompanied them on the fiddle and guitar.
Ed Wenzel of the Bull Run Civil War Roundtable is a trustee of the monuments, and he told those attending the event of future plans for the battlefield park. "We're going to plant corn, and we have some rail fences to improve and lengthen," he said. "We also want to place six markers along the offsite walking trail that crosses the battlefield to give additional information about what happened here."
PLANNED, AS WELL, are markers for four Union and four Confederate soldiers who fought at the Battle of Ox Hill/Chantilly. "We also plan future Union and Confederate soldier monuments with their regiments and units inscribed on obelisks," said Wenzel. "We've got two generals commemorated here, but we never commemorated the soldiers, so we're going to do that."
Noting that 516 Confederate soldiers and at least 1,000 Union soldiers were either killed or wounded during the battle, he said the annual Memorial Day ceremony at Ox Hill Battlefield Park is important and meaningful.
"Memorial Day is a day when we remember our war dead," explained Wenzel. "It started in May 1865 when women and young girls laid flowers on the graves of the soldiers on both sides of the war, and now Memorial Day is for all the dead. But it was originally called Decoration Day because they were decorating the soldiers' graves."