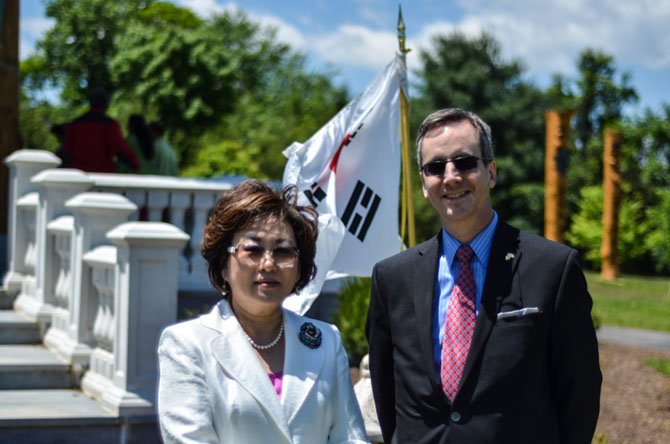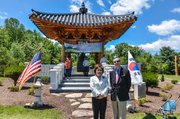 On Saturday, May 25, visitors to Meadowlark Botanical Gardens in Vienna were granted free admittance. This was due to the first anniversary celebration of the completion of the park's Korean Bell Gardens. The celebration began at 11 a.m. and brought more than 350 visitors to the park.
The concept of a bell garden came from the Korean American Cultural Committee and its chair, Jeung-Hwa Elmejjad-Yi. In 2006, the KACC reached a memorandum of understanding with the Northern Virginia Regional Park Authority authorizing placement in Meadowlark Gardens. "We provided the space and we thought the space worked very well for this type of garden and fit into the environment, and the Korean American Cultural Committee raised the funds," said Paul Gilbert, executive director of the Northern Virginia Regional Park Authority.
The entire project took more than five years to complete and cost approximately $1 million. About 80 percent of this came from private donations from the Washington area Korean community, and 20 percent from the South Korean government. "We are so lucky to have this wonderful place," said Elmejjad-Yi.
The bell was funded by a donation from the government of Gyeonggi Province in South Korea. Cast into the bell are many images of birds, plants and animals. There is also an image of the dogwood flower, the official flower for the Commonwealth of Virginia.
Two similarly massive Korean bells may be found in North America, one in California, the other in Vancouver, Canada. The bell at Meadowlark is the only one in the western hemisphere located in a public place. The Korean Bell Garden was designed by artist and University of Michigan Professor Y. David Chung, who grew up in Vienna.
After welcoming remarks by Master of Ceremonies Hyunae Shin, elected officials made statements. Among the invited guests were Virginia Delegates Tom Rust (R-86), David Bulova (D-37), and Barbara Comstock (R-34).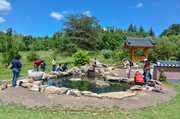 Ms. Jae Ok Jang set up a table with samples of Korean cuisine such as kimchi. The Asian American Arts Center, based in Centerville, lead a Korean traditional folk dance. "This is a beautiful site and it helps attracts business and tourists," said Gilbert. "It shows we are a very cosmopolitan and international community."
To learn more about Meadowlark Gardens, visit their webpage at: http://www.nvrpa.org/park/meadowlark_botanical_gardens.