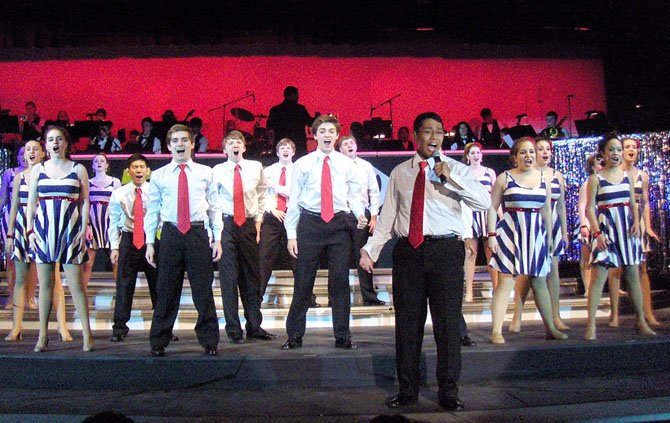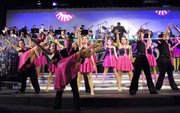 Chantilly High's Jazz & Pizzazz isn't just any musical-entertainment show. It's a high-octane, raise-the-roof extravaganza featuring award-winning singers and dancers in colorful and energetic spectacle.
This year's event, the 27th annual, runs Wednesday-Saturday, May 29, 30 and 31 and June 1, at 7 p.m. Tickets are $10 at www.ChantillyChoral.org. They're also available at the door, but Friday and Saturday nights usually sell out, so advance purchases are recommended for those shows.
Guiding the singers are Choral Directors Juliana Woodill and Evan Ayars, who joined Chantilly in September to replace retired Choral Director Glenn Cockrell.
"It's been an adventure," said Woodill. "We wanted to find a balance between maintaining the old traditions and giving the show a more modern, fresh and contemporary feel."
"I'm excited about being part of this wonderful event and I'm also looking forward to being the emcee," said Ayars. "And having enjoyed the show as an audience member, it's nice to be involved in its production."
The pair picked music relevant to the singers so they could really connect with it. "Our competition theme this year was, 'Let Me be Your Star,' from the TV show, 'Smash,' so it's a common thread running through the show," said Woodill. "It's also one of the major numbers."
Highlights include "Legendary," based on the Broadway musical, "Bring it On," a music medley from "Mamma Mia" and Jason Mraz's "I Won't Give Up," featuring sign language and a ballet segment. Solos, mostly done in small groups, include "Holding Out for a Hero," "Mama, I'm a Big Girl Now" from "Hairspray" and "I Dreamed a Dream" from "Les Miserables."
Instead of the Touch of Class, the 36-person choral ensemble is now called the Chantilly ShowStoppers. "It's the same, great singing and dancing people have come to know and expect from Chantilly," said Woodill, but with a new name.
Also performing will be the 30-member Chantilly Jazz. "It's a professional-level, high-school big band, and the show's a great opportunity for the community to hear really good music played by talented musicians," said Band Director Drew Ross. "From the newest members to the seniors, they're an outstanding group. It's a blessing for me to listen to them play every day."
The show features a variety of jazz genres from Latin and blues to new age and rock. Among the standout numbers, said Ross, are "Children of Sanchez" by Chuck Mangione. "It has an intense percussion juxtaposed against a smooth trumpet solo," he said. "And a Benny Carter piece, 'Symphony in Riffs,' is an upbeat, feel-good blues song featuring everybody."
Each year, the band also plays a chicken-themed song, just for fun. So this year's entry is "Poultry in Motion," a down-home, Southern, country-funk tune.
"During the show, we highlight every musician in some way, either in their section, doing a solo, or doing a featured numbered," said Ross. "Sometimes, we change things and pick soloists on the spot to get that free improvisation."
Although it happens in front of an audience, the young musicians are fearless and always rise to the challenge. "Having that confidence and leadership ability will help them in whatever they'll do later in life," said Ross. "So the audience gets to enjoy great music and the kids learn the intangibles that make them the awesome people they are."
Looking forward to Jazz & Pizzazz, he thanked Chantilly's Director of Student Services Robyn Lady, Performing Arts Department Chair Shannon Khatcheressian and school Principal Teresa Johnson for their support. He also acknowledged Chris Singleton, the other band director, for his important work on the show's lights and sound.
Ross called the show "a chance to celebrate student successes and a way for us to give back to the community. It's also a way for the community to see the outstanding work our students have done this year." Now in his eighth year as band director, he added, "I'm happy to be a part of the Jazz & Pizzazz legacy."
For Woodill and Ayars, it's their first Jazz & Pizzazz at the helm and a chance to put their own stamp on the show. "Putting together something on this grand a scale and watching the kids perform is really exciting for me," said Woodill.

Ayars especially likes "hearing the kids sing in small groups and in solos. It's nice seeing them in a small light and getting to shine alone. But I also like our big finale and production numbers. The kids are really driven and eager to perform, and I'm amazed at how natural and comfortable they are on stage. It's obvious how much they enjoy it — which makes the audience enjoy it even more."