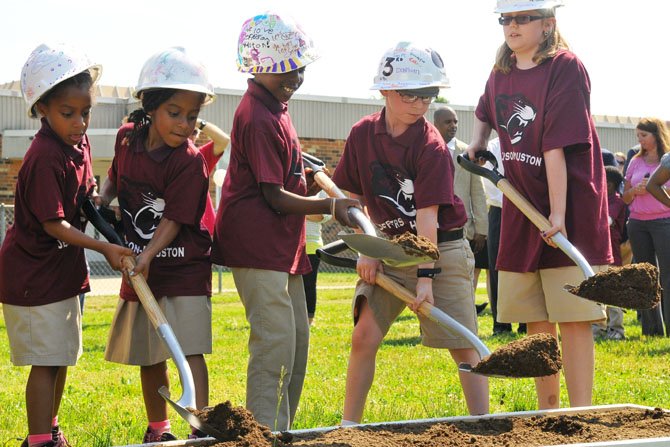 Photo Gallery
A New Jefferson-Houston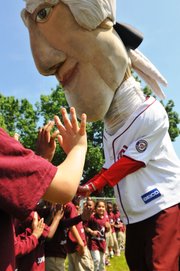 Click Photo for Flash
Alexandria — The ground has been broken on the new site for the Jefferson-Houston Elementary School. The event featured a visit from the Washington National's Running President Thomas Jefferson. Speakers included Mayor Bill Euille, Alexandria City Public Schools School Board Chair Karen Graf, Superintendent Dr. Morton Sherman, Jefferson-Houston Principal Mrs. Rosalyn Rice-Harris, graduating 8th grade student Mayayla Rice and mistress of ceremonies Shanelle Gayden. Student representatives included Aja and Asia Williams, Makiya Carper, Fatima Shakuur, Sam Mostow, Itali Woods, Mateo Ward, Madison Pipa, Porfirio Valasquez and Litzy Manzanares Rivera. Middle school ambassadors were Temperance Fraser, Kaylah Robinson-Stewart, Mikias Abebe, Nye Bucksell and Davon Hardy.
The Jefferson-Houston Chamber Group, directed by Heather Rosner, performed before the ceremony. Members include DaVon Beckford, Kevian Macon, Cavandar Johnson, Sekou Koram and MarKeith Johnson.
Alexandria Archeology has been working with consultants on a pre-existing structure on the property. The structure appears to be the slaughterhouse that was built by a Mr. Baggette in the late 1800s. The walls of the basement that have been unearthed are 3 to 4 feet wide. Another structure has been noted on a late 19th century survey map.
The new school is scheduled to open in the fall of 2014.