Andrea Hsu has a deep love of music and enjoys sharing that love with others. "Playing for others gives me a rush because I love knowing that the music you help bring to life could really have an effect on someone," she says.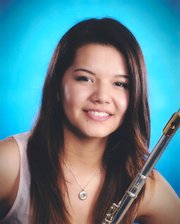 A senior at Chantilly High School, Hsu will have a completely new performance experience when she joins the City of Fairfax Band on stage at 8 p.m. on Saturday, May 11, at WT Woodson High School as this year's Young Artist Competition winner. Since its creation in 1996, the City of Fairfax Band Association's Young Artist Competition (YAC) has encouraged the development of stand-out high school musicians from Northern Virginia who plan to pursue musical careers.
City Band Conductor Robert Pouliot explains that the competition gives high school students the opportunity to prepare a solo and perform in a live open-to-the-public audition and the winner gets the real-world experience of preparing and performing that solo with a full ensemble accompaniment. He says, "It is truly encouraging to see so many talented young people performing on our stage. These young people are the future of the City of Fairfax Band."
Hsu will be performing Concerto in D Major for Flute by W.A. Mozart with the City Band at the "Spotlight Pops" Concert.
"I know I'm going to learn a lot from this experience," she says. "The City of Fairfax Band is full of the best players in the area and to get to make music with them is exciting."
Hsu is a member of the Northern Virginia Youth Winds, an ensemble of the City of Fairfax Band Association. At Chantilly HS, Hsu serves as principal flautist of the Symphonic Winds, plays in the jazz ensemble, serves on the band council, and has won chairs in District and All-State ensembles. Hsu will be attending Boston University Tanglewood Institute this summer for flute and plans to study music education in college this fall.
At the concert the City Band will also celebrate the history of the YAC when they welcome back Paul Fadoul, the very first YAC winner, who will perform "Golden Age of the Xylophone" by Floyd Werle. Fadoul is now an active freelance performer in the greater Washington, D.C. area.
Pouliot says, "Most of our past winners have gone on to very rewarding careers in solo and orchestral performance and teaching and are now themselves involved in encouraging and mentoring a new generation of young people. It is very exciting that this year's winner will be performing on the same program along with our very first YAC winner from 17 years ago."
Other pieces on the program include Selections from "Les Miserables," Jerry Brubaker's new "Harry Potter Symphonic Suite," "Blue Shades" by Frank Ticheli, Mikhail Glinka's overture to "Russlan and Ludmilla," and Bacchanale from "Samson and Delilah" by Camille Saint-Saëns.
Tickets are $17 for adults and $11 for seniors. Students under 18 years old receive free admission. To purchase tickets and for more information, please visit www.fairfaxband.org.