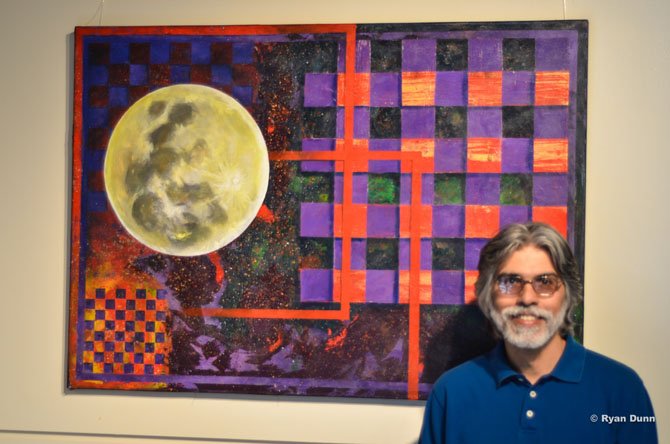 On Sunday, May 5, students and teachers in Reston Community Center's visual arts program assembled in a reception to meet with friends and relatives. The work is on display now at the Jo Ann Rose Gallery at the Reston Community Center at Lake Anne.
Cheri Danaher, arts education director at the Reston Community Center, said, "We just hung the show last week, so this is their opening. … All the artwork was done through this past year. " The art includes that of Reston Community Center art students and their teachers.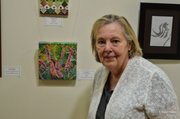 The artwork was constructed at the Reston Community Center at Lake Anne, with the exception of mosaics and stained glass. That artwork was completed at the Reston Community Center at the Hunter Woods facility. The work on display at the Jo Ann Rose Gallery is focused on painting and drawing. "There is collage, watercolor, acrylic and pencil," said Danaher.
These works reveal the two-way process of students and teachers exchanging ideas. "We opened our facility September 11, 1999, and our first teacher to student exhibit was that following May," said Danaher.
"For the student teacher show, if you have taken a class here you automatically qualify to enter the show. The reception is always fun," said art teacher Arnold Lopes who attended the reception with his son. Lopes has been teaching at the Reston Community Center for at least 10 years. "The only type of painting I don't teach is the oil painting. Anything that is two dimensional, I'll take a shot at it."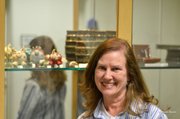 Pottery instructor Deb Joder also attended the reception. "We do a lot of forms and a lot of vases. I am teaching a senior ceramic class, ages 55 and above. It is a nice group of 10 people each session. We always have a wait list so the demand always exceeds class size," said Joder.
An art teacher who has been teaching at Reston for more than 8 years, Joder finds something spiritual about the pottery and ceramic arts. "It's therapeutic … getting two pieces of clay together and decorating it." At Reston Community Center there are six to eight week classes and open studio sessions on Wednesday and Saturday.
The senior class has been very popular. "The thought process and camaraderie are wonderful … we have a clean, spacious facility. It is a lot of fun."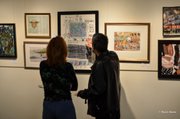 Jane Ross, a fine art teacher who has taught at Reston Community Center since 2005, said, "I am a very eclectic teacher, I teach painting and three dimensional collage, some wacky things," said Ross.
"I would say maybe half of the students are seniors. For the most part, the students have busy lives but they like to enjoy the creative process. Some are members of other art groups like GRACE (Greater Reston Art Center) or League of Reston Artists. I think making art keeps people young because it involves problem solving."
The 14th Annual Teacher to Student Exhibit at the Jo Ann Rose Gallery will continue to be on display until June 2. The 3-Dimensional Gallery Exhibit will be on display until Aug. 24.