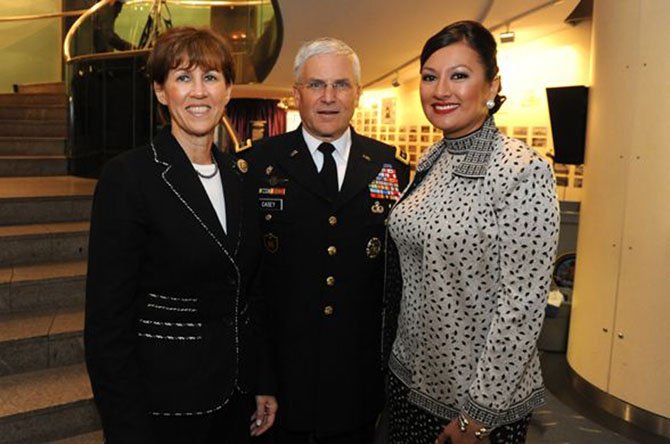 In the two months since the much-hyped and dreaded sequester took effect, the daily economic forecast has been almost as painful as the slow grinding of bureaucratic wheels.
But here's some good economic news, especially for aspiring female entrepreneurs: the numbers are in your favor.
A recent study by American Express OPEN, the small-business division of American Express, determined the number of women-owned businesses nationwide has increased 59 percent since 1997. In the United States, there are an estimated 8.1 million women-owned businesses that contribute $1.3 trillion to the national economy and employ 7.7 million people, according to Forbes magazine.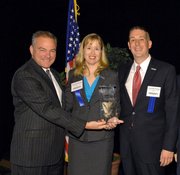 Fairfax County businesswomen are part of that trend.
Two Fairfax County-based companies made the 2013 list of the 50 fastest-growing woman-owned or led companies in North America by the Women Presidents' Organization (WPO)—a peer advisory organization for women entrepreneurs.
One is Vienna-based Lanmark Technology Inc. (number nine on the list), whose president and CEO is Lani Hay. The other is Chantilly-based Ampcus, Inc. (number 36 on the list), founded by Anjali "Ann" Ramakumaran.
"We are very proud to be the home of Ampcus and Lanmark Technology and their leadership. Anyone can become a successful business person in Fairfax County," said Gerald L. Gordon, president and CEO of the Fairfax County Economic Development Authority (FCEDA).
"It requires talent, a good business plan, and plenty of hard work. Irrelevant factors such as gender are just that: irrelevant. It is part of what makes Fairfax County such a great place to live and work," Gordon added.
More than 34,000 women-owned businesses exist in Fairfax County, including more than 4,400 firms with paid employees, according to the Survey of Women-Owned Businesses. Women-owned businesses generated $4.7 billion in sales revenue in 2007 alone, based on data from the U.S. Census Bureau.
Fairfax County Companies on the 2013 Fantastic 50 List
(No. 1) Integrity Management Consulting, Inc. Tysons Corner
(No. 3) Veris Group, LLC Tysons Corner
(No. 6) 3Pillar Global Fairfax
(No. 7) Kore Federal Tysons Corner
(No. 13) Octo Consulting Group Tysons Corner
(No. 14) First Virginia Community Bank Fairfax
(No. 17) XLA Springfield
(No. 18) Agilex Technologies Inc. Chantilly
(No. 19) Three Wire Systems, LLC Falls Church
(No. 20) RFID Global Solution, Inc. Reston
(No. 22) Zantech IT Services, Inc. Tysons Corner
(No. 24) C2 Solutions Group, Inc. Reston
(No. 26) Knowledge Link, Inc. Herndon
(No. 27) Technatomy Corporation Fairfax
(No. 28) Data Networks Corporation Reston
(No. 29) ConceptSolutions, LLC Reston
(No. 30) Eagle Ray Inc. Chantilly
(No. 33) MetroStar Systems Reston
(No. 34) Kinsey Technical Services, Inc. Chantilly
(No. 35) TeraThink Corporation Reston
(No. 38) Cetrom Information Technology, Inc. Tysons Corner
(No. 42) National Corporate Housing Herndon
(No. 43) Trusted Mission Solutions Inc. Tysons Corner
(No. 46) Search Technologies Herndon
(No. 47) U.S. Information Technologies Corporation Chantilly
IN INCREASING NUMBERS, women-owned companies are making their mark and competing nationally in traditionally male-dominated industries, such as cyber-security, homeland defense, biometrics and scientific program development, such as Lanmark and Ampcus, both high-tech consulting firms.
"Having this kind of dynamic and entrepreneurial business community yields job opportunities and further enhances the quality of life in Fairfax County," said Gerald L. Gordon, president and CEO of the Fairfax County Economic Development Authority (FCEDA).
All companies that submitted nominations for the WPO list were ranked according to a sales growth formula that combines percentage and absolute growth. To be qualified for the ranking, businesses were required to be privately held, woman-owned or led companies in the U.S. or Canada and have annual revenue of at least $500,000 in 2007 and $2 million in 2012.
During the past decade or two, organizations have formed to help women entrepreneurs build the networks they need to succeed as high-growth companies. Women Presidents' Organization is a peer advisory group for women presidents of multimillion-dollar companies. In February, the WPO launched a Northern Virginia chapter in McLean during which WPO Founder and President Marsha Firestone hosted a roundtable discussion.
"I am confident this chapter of powerful women will help the region's women business leaders accelerate the growth of their businesses through peer support from women like themselves and promote economic security for themselves and their employees," Firestone said during the launch.

Women-owned businesses are also doing well across the state. The Virginia Chamber of Commerce recently announced its "Fantastic 50" ranking of the fastest-growing businesses in Virginia, and many of those on the list are women-owned businesses, including Kore Federal, RFID Global Solution, Knowledge Link and Trusted Mission Solutions. Twenty-five Fairfax County companies were listed on the "Fantastic 50" list.
The Virginia Chamber honored all 50 companies at a banquet held April 25 at the Westfields Marriott in Chantilly.

"This list is one indicator that Fairfax County continues to be an exceptional location for companies that are growing and becoming increasingly successful," Gordon said.
Integrity Management Consulting of McLean, which supports federal agencies with acquisition and program management, topped the list as the fastest-growing company in the state. Between 2008 and 2011, Integrity posted a growth rate of 2,165 percent.
Founded in 2006 by Christopher and Mary Beth Romani, Integrity has grown from two to almost 100 employees and now has a satellite office in Fort Worth, Texas.
"As a life-long Virginian, the Fantastic 50 Vanguard Award means so much to me," said Chris Romani.
"It's gratifying that our small business is able to contribute to the economic growth of our region and create jobs that sustain families and communities, while at the same time supporting customer missions of national importance," said Mary Beth Romani.
THE VIRGINIA "FANTASTIC 50" is the only statewide awards program to rank leading businesses across the commonwealth in all types of industries. Companies must be privately held with headquarters in Virginia, and demonstrate positive year-over-year revenue growth and net income when judged on four-year sales revenue history.
"We are immensely proud to be recognized as the leading company for growth in the state, and it's especially meaningful to achieve continued growth at a time when there remains uncertainty in the economy and in federal spending," said Christopher Romani. "We have remained focused on doing excellent work and recruiting top talent to support our customers. We've succeeded by competing on our strengths."
"The entire Commonwealth of Virginia benefits from the success of these businesses through additional income taxes that support programs statewide," said Gordon, a member of the Virginia Chamber Board of Directors.
For the complete Virginia "Fantastic 50," list, visit www.virginiabusiness.com. For information on membership in the WPO, contact Chapter Chair Renee Lewis at renee.lewis@pensaregroup.com or 301-332-4677 or go to www.womenpresidentsorg.com.