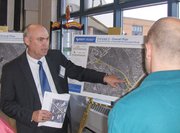 As things are now, rush hour traffic on Route 28 in Centreville is more than the traffic signals at Braddock/Walney roads, the entrance to E.C. Lawrence Park and the ramp to I-66 East can handle. This situation results in traffic backups, delays and safety hazards.
Area residents and commuters alike have complained about the I-66/Route 28 interchange for years and urged the powers-that-be to fix it somehow. So VDOT consultant Parsons Brinckerhoff developed two design concepts to rectify the problems.
Monday night, April 29, some 40 residents viewed them at a VDOT meeting at Stone Middle School. They also asked questions and gave feedback. The work is roughly estimated to cost $100 million to $125 million and, currently, it's only funded for preliminary studies.
But according to VDOT engineer Bud Siegel and Sully District Transportation Commissioner Jeff Parnes, that could very well change — and soon.
"There's some political traction to do something about this now," said Siegel. "Our elected officials as a whole recognize this is an area that needs to be reviewed for viability of funding and transportation improvements, given the volume of traffic using this interchange."
And Parnes noted that it's one of the projects identified as receiving funding in Gov. McDonnell's recently passed transportation package. So he, too, was hopeful.
Using VDOT road-safety funds for the conceptual design, said Siegel, "We asked our consultants to look at possible operational improvements at Route 28/I-66, including the Braddock/Walney roads intersection, and the elimination of the signals at the E.C. Lawrence Park intersection."
Then on Monday, some 40 residents examined several maps detailing the concepts proposed and gave their input regarding any changes or ideas they had to offer.
"We're presenting alternatives," said Siegel. "The idea is to be ready to move forward with a concept, in the event the project's more robustly funded."
Explaining the concepts, Robert Kalbach, a civil engineer with Parsons Brinckerhoff, said they wanted to get rid of the traffic signals on Route 28, so they did in both Concepts One and Two. At the project's northern end — just south of the Route 28/Westfields Boulevard interchange — Poplar Tree Road will cross Route 28 and connect with Stonecroft Boulevard.
There'll also be additional connections from Route 28 South to Stonecroft and the restaurant area in Westone Plaza. "Currently, Route 28 South traffic has to cut across Westfields Boulevard to reach Stonecroft," said Kalbach. "Instead, you'd come under Westfields and tie into the new, Poplar Tree overpass."
Access into E.C. Lawrence Park from Route 28 North would be closed entirely. Drivers would instead take Westfields west to Stonecroft and to a new access road for the park.
"Coming from Route 28 South, it could remain a right in, right out entrance to the park," said Kalbach. "Or it may be closed; that decision will come out of the next phase of the study."
At the project's south end — the I-66/Route 28 interchange — coming west on I-66 to turn onto Braddock, the signal at that interchange would be gone. And for motorists driving south on Route 28 to go east on I-66, those two traffic signals would be eliminated.
"In their place, both concepts include a direct connection from Route 28 South to eastbound I-66," said Kalbach. "And both provide a connection between Braddock and Walney roads via an overpass."
In Concept One, Braddock connects to Walney without any connection to Route 28. Instead, there'd be a bridge across Route 28. In Concept Two, there's a ramp from Route 28 North to that new bridge to then turn toward either Walney or Braddock.
From Braddock to Route 28, both alternatives include a connection that goes over I-66 and ties into Route 28 South only. Drivers still wouldn't be able to turn onto Route 28 North.
Both concepts also contain a connection to I-66 East from Braddock Road. In Concept One, it goes from eastbound Braddock to Route 28 or from Route 28 to westbound Braddock. A ramp would tie eastbound Braddock to eastbound I-66. Said Kalbach: "Traffic that now has to wait for a signal would have a direct shot onto I-66."
Concept Two also features that connection, plus one leading to westbound I-66 from both Braddock and Walney roads. "So this concept provides a few more options, as far as movements," said Kalbach. "That's probably the main difference between the two."
Presently, the concepts are only 10-percent designed. The next stage of the study will look at traffic analyses and environmental impacts. Public comments will also be reviewed to see if any tweaks are necessary before a final, proposed design is developed.
Harry Rudolph, of Centreville's Newgate community, off Braddock Road, was among the residents at Monday night's meeting. "It looks like we'll continue to have to go to Stone Road to Westfields Boulevard to go on Route 28 North," he said. "But to go onto Route 28 South, both plans would have a series of ramps to get you there."
"It would be twisting and turning, but you wouldn't have to stop," he continued. "So it's great — this would be a huge improvement. I'm just wondering about the funding for it because it's been so hard getting transportation funding."
Parnes, Sully District's representative on Fairfax County's Transportation Advisory Commission, also had some comments on the plans. "I like the fact that Poplar Tree Road is being reconnected across Route 28," he said. "And in Concepts One and Two North, the rotary shown in the northwest tip of E.C. Lawrence Park makes sense in a park setting."
He also noted that the design for the southern portion of Concept One still doesn't allow Cabells Mills residents access to Centreville. "But Concept Two does, so I think it's better," said Parnes. "But neither Concept One or Two allow for northbound Route 28 to access westbound I-66, or eastbound I-66 to access southbound Route 28."
Instead, said Parnes, drivers are "forced to take Route 29 to or from I-66. And it's a shame — if we're building this improved Route 28/I-66 interchange — that we're not including those movements, if practical, in these designs."
Overall, though, he hopes this project is green-lighted. "We should go for it," said Parnes. "This has been long overdue and sorely needed. And I've long been in favor of removing the traffic lights at the park."
He'll also be pleased personally if the project moves forward, and it has to do with the late Dick Frank, who was Sully's Transportation Commissioner prior to Parnes. "Ten years ago, Dick advocated a bridge connecting Walney to Braddock and providing access to Centreville to the people of the Cabells Mill area," said Parnes. "And as the successor to him as Sully TAC, if Concept Two is picked, I'll be happy to see his wishes implemented."
As for Siegel, he said whatever design is ultimately chosen will be an improvement over what's there now. "It provides a lot of benefits from a safety standpoint, and operationally, as well," he said. "I think its time has come."
Residents wanting to comment on the project may do so by May 9 by e-mailing meeting_comments@VDOT.Virginia.gov. Write "I-66/Route 28 Improvements" in the subject line.