Details:
Bryant Adult and Alternative High School
Principal: Larry Jones
2709 Popkins Lane
Alexandria, VA 22306
Main: 703-660-2001
Fax: 703-660-2083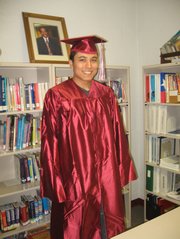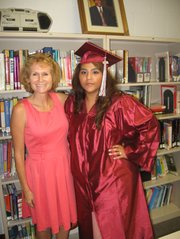 Mount Vernon — Graduation on Tuesday evening, June 13, was attended by parents and friends of the graduates, teachers and administrators. However, it was also attended by state and local government officials, business representatives, former Superintendent of Schools Dr. Daniel Domenech, and the new Fairfax County Public Schools Superintendent Dr. Karen Garza. Formerly head of the Lubbock, Texas Independent School District, she will replace retiring Superintendent Jack Dale.
This large gathering of well-wishers spoke loudly by their presence of the importance they attach to the graduation of students from the Bryant Adult and Alternative High School.
There are 320 students enrolled at Bryant. Among them, approximately 33 percent are in need of language services and 10 percent in need of special education services; 52 percent of the students are Hispanic, 29 percent black, and 11 percent Asian; 63 percent are eligible for free or reduced lunches.
Seven graduates are pregnant or parenting teen mothers, and beneficiaries of a special program for teen moms called the Project Opportunity Program. Counselor Florence "Pipi" Harrison said, "Project Opportunity's role is to help teen moms balance motherhood with being a student, make them feel they belong and help them to understand the importance to them and their child of obtaining a high school diploma. We provide them with individual and group counseling; advice on child development and day care; custody advice and support; mentoring and social services advice and support; and career and job readiness counseling and referral assistance."
Bryant's mission statement reads: "To empower a diverse student population to earn a high school diploma in a non-traditional setting."
Graduate Priscilla Cruz, 20, attended Edison High School for one year. She was court-ordered transferred to Bryant, had gang-related rebellious behavior; subjected to severe abuse within her peer group; had a brother who was murdered in Honduras; dropped out of school and left the country for Honduras; missed six months of school; allowed to return to the U.S. and Bryant; had a child, Anthony, who was placed in private child care and suffered neglect and health problems; counseled and transferred her child to a caring day care person. Cruz credits Harrison, with helping to mentor and counsel her to finish school.
"Without her effort and those of the caring teachers here at Bryant, I would have never finished school, and I am so grateful to them," Cruz said. She is now enrolled in a vocational education program in the private sector and on track to receive medical assistant certification in December.
Matia Sobarzo, 21, is a native of Chile. He attended Mount Vernon High School for three years before dropping out to work and obtain his GED. After dropping out he was married and had a child. He then signed up with the U.S. Army only to find out that a GED was no longer acceptable to the Army as a credential to admit him to the Army. He had to get a high school diploma if his goal to become a career military person was to be realized.
Sobarzo learned about what he called the Bryant "second chance" High School and applied, was accepted into the Bryant program and graduated on Tuesday. Once the Army realized he would graduate they agreed to have him sign a contract with the U.S. Army and was recently sworn in as a private, grade 2 — he received credit for two years of ROTC training at MVHS. He will soon enter basic training at Fort Jackson, S.C., and will be joined by his wife and child.
When asked about the Bryant experience, Sobarzo said, "The atmosphere is very different here from Mount Vernon High Scjhool; all the students here know this is their last chance to get a high school diploma; they are serious and know what is expected of them. And the teachers are very helpful, they care about us; they are flexible, and understand that some of us have special obligations; either children or work requirements.

"As an example my daughter was enrolled in day care and I sometimes had to pick her up before school was out; the teachers understood, and as long as I did my homework and reported to school I was OK with the teachers. Thanks to Bryant and the teachers here I am graduating, and this time I have been accepted by the U.S. Army."