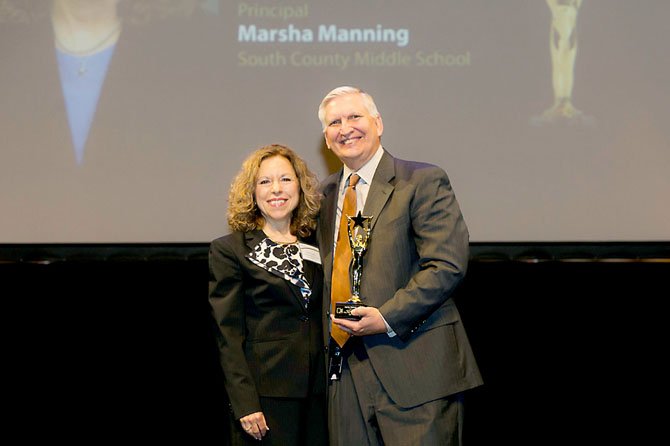 Marsha Manning, principal at South County Middle School, has been named the Fairfax County Public Schools (FCPS) 2013 Nancy F. Sprague Outstanding First-Year Principal. The announcement was made by FCPS Deputy Superintendent Richard Moniuszko at FCPS Honors, a ceremony for the winners of FCPS employee awards.
Manning, who was a subschool principal at South County Secondary (now High) School before being named principal at the new South County Middle School in 2012, is praised for developing a can-do culture at the new school. "Through Mrs. Manning's efforts, South County Middle School has something that ordinarily takes years to create—an identity," says parent Christine Morin. "This identity was forged by a leader who is truly 'in the trenches' with her teachers and students. It is executed by teachers whom she engaged and energized, and embodied by students who feed off of the positive vibe that fills the school."
Teacher Diane Wilson praises Manning for "maintaining strong connections with our former building" while creating "a unique sense of community. ... Her mission is always student-centered.
"Marsha understands the difficulties teachers face and she stresses employee wellness and a sense of fun in the workplace," continues Wilson. "Most of all, she encourages us to think outside of our comfort zone while providing resources for new initiatives and sharing feedback and appreciation for our efforts."
"We are proud to work in a building that puts learning first," say teacher nominators. "From the moment you pull into our parking lot, the pride and care are evident. Students and staff are stewards of our school." An eighth grade student adds that Manning is "a great leader" who "strikes the perfect balance between kindness and discipline." Another student describes Manning and "her phenomenal bond with her students" as "one of the best things about South County Middle School."
Science Department Chair Robert Ellis says that when Manning was announced as the new principal, "There was a long standing ovation. … That kind of admiration for a leader is rare and precious. And, it doesn't come about without hard work, integrity, and exceptional passion."
Manning is praised for her leadership in moving from a secondary to a middle school program, involving all stakeholders in the conversation around change and growth, and harnessing the energy involved in opening a new school in a positive way.
Finalists for the 2013 Outstanding First Year Principal award include Mie Devers of Fox Mill Elementary School, Greg Hood of Thoreau Middle School, and Teresa Khuluki of Wolftrap Elementary School.