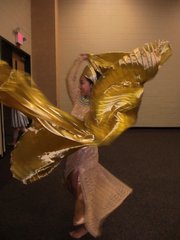 It took two knighted Brits, Elton John and Tim Rice, to create a contemporary musical production based on an Italian opera composed in the late 1800s, set in Egypt of the pharaohs, interpreted with rock music and dance. But John and Rice did, and "Aida" re-interpreted became a Broadway hit. Now, "Aida," with its elaborate period and not-so-period costuming and modern music and dance is coming to Vienna, performed by the Vienna Youth Players.
The play's main three protagonists are all heading to musical theatre in college next month. For two weekends, "Aida" breaks loose at the Vienna Community Center, celebrating 20 years of Vienna Youth Players.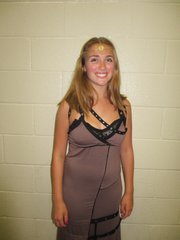 "This is quality entertainment at an affordable price," said "Aida" director Babs Dyer. "It's a chance to expose families to a blockbuster Broadway production."
Former Vienna Idol semi-finalist Christine Foerster plays the vengeful and self-absorbed Egyptian princess Amneris, betrothed to Egyptian noble Radames, played by Morgan Miller. Sarah Chapin is the Nubian princess Aida, who is captured by Radames. And, as Italian operas go, there's an obstacle here. Radames and Aida fall in love, which really gets up Amneris's ire. In a nod to the twist ending, director Babs Dyer said, "Hell hath no fury like a woman scorned."
Dyer described "Aida" as an age-old opera put in modern terms with music and book by Elton John and Tim Rice. There is "lots" of dialogue and scenes, Dyer said, but, with 21 songs, it is "heavily a contemporary musical." As for costuming, it's a bit of period dress but not much—something not unexpected from Elton John, she said.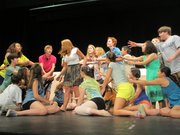 Joette Fletcher of Vienna is the show's producer.
"When Babs told me she was going to do 'Aida,' I jumped right into it," said Foerster, who had been preparing for George C. Marshall High School's production of the musical when it was cancelled. "I already knew most of the music," she said. In one of Amneris's key numbers, the fashion princess proclaims, "I am what I wear."
Three of the production's principal players are majoring in theatre in college. Chapin is going to Yale, Morgan Miller to James Madison, and Foerster to Berklee College of Music.
"In this one, especially, we're not only listening to their pure tones, but, their tone tones, their beats and even a little reggae thrown in," said Dyer.
The Vienna Youth Players are sponsored by the Town of Vienna Department of Parks and Recreation.
"Aida" runs Aug. 2, 3, 9 and 10 at 7:30 p.m., and at 1 p.m. Aug. 11. Tickets, priced at $14, are on sale at the Vienna Community Center. Performances take place at the Vienna Community Center, 120 Cherry Street, Vienna. Phone 703-255-6360 for details.