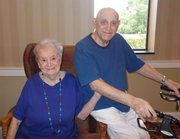 Alexandria — Four married couples, all residents of The Fountains at Washington House, 5100 Fillmore Ave., recently renewed their marriage vows in a ceremony at the community's chapel. Friends, families, and neighbors all looked on July 10 as the couples said "I'd do it all over again."
Taking part in the vow renewal ceremony were Mr. and Mrs. Milton Tomecek, 50 years; Mr. and Mrs. Bill Keil, 55 years; Mrs. and Mrs. Dan Schilling, 65 years; and Mr. and Mrs. Marv Ribyat, 67 years. The longest married groom, Mr. Ribyat, drew chuckles from the crowd when he joked that he and his bride got married when they were two years old.
The ceremony was followed by a reception featuring freshly-prepared bakery and fruit selections from the Washington House culinary team.