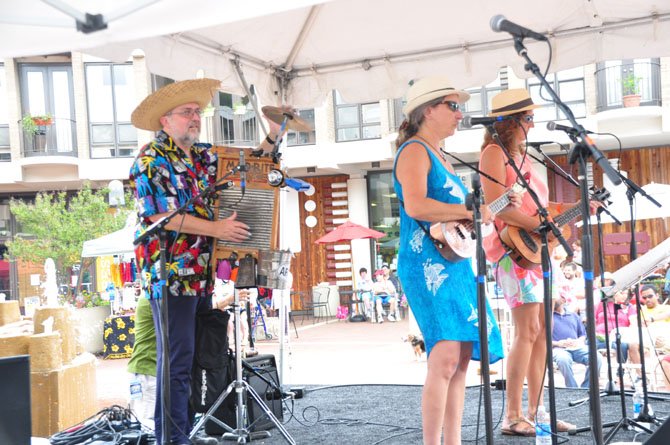 Reston — Lake Anne welcomed hundreds of ukulele enthusiasts Saturday, July 13 for the fourth annual Northern Virginia Ukulele Festival. For Heath Murphy of Reston, it was a chance to embrace his budding hobby.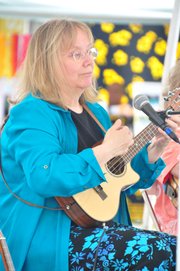 "I picked one up while on vacation in Hawaii a few months ago, and it's a fun thing to strum, but I'm also interested in learning some songs and proper techniques, so I figured I'd come by," he said. "I had no idea there was a community dedicated to this instrument, which was a very pleasant surprise. I got a lot of good hints from people who have been playing for years."
The day was filled with performances by a variety of acts, soloists, ensembles and even The Paul Hemmings "Uketet," which consisted of four players.
"I really liked Cathy and Marcy, they played some great folksy songs that were good when it came to getting the crowd involved," said Will Powers of Reston, referring to the duo of Cathy Fink and Nancy Marxer.
The two are famous for their mastery of not only the ukulele, but other stringed instruments such as the guitar, five-string banjo, mandolin and cello banjo. The two won Grammy awards in 2004 and 2005 for Best Traditional Folk Album.
Betsy McMillan of Herndon was just having lunch with a friend at Lake Anne when the festival began, and she found herself staying to watch the performances.
"I always liked that version of 'Over the Rainbow' with the ukulele, but other than that I'm afraid I didn't know too much about it," she said. "But sitting outside on a summer day, it's wonderful background music, with the sound of the water, it was like being on a beach."
While all the groups featured ukuleles as their primary instruments, many featured percussionists and other instruments. The bands specialized in all genres, folk, jazz, blues, rock, swing and more.
"I think Lake Anne is a neat concert venue, and I like where the stage was set up, there was plenty of seating and a good background with the plaza's architecture," said Neil Chester of Vienna. "And the music wasn't overwhelming like a full, regular band would be, so you could walk around the plaza and chat without being drowned out."