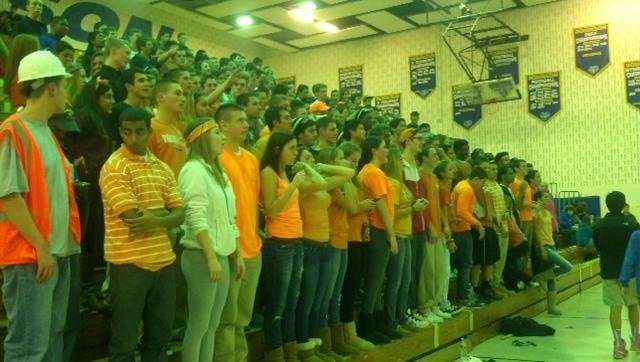 Robinson Stands Up to Cancer, a series of events put on by students at Robinson Secondary School, reached out to the community to raise money for cancer research and treatment, while raising awareness about those in need.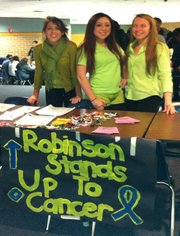 Goals of the project were to raise $5,000 for cancer treatment and research; to establish partnerships with multiple organizations to expand relations with the Robinson Distributive Education Clubs of America or DECA chapter (which aims to teach students marketing, management and entrepreneurship); and to raise awareness on all cancer types through "awareness days."
The beneficiary for the student efforts is the Stand Up to Cancer organization. One of the major DECA supporters is the Future Business Leaders of America ASK project. This project is also dedicated to helping families suffering from cancer diagnosis. The ASK project collected gift cards for the Children's Hospital for over a month, finishing this event with a Benefit Concert. In helping promote this gift card collection drive, ASK was able to collect over $1,000 for their cause.
The students had a second and third objective as well: to raise community awareness through partnering with community organizations and to benefit the entire Robinson Secondary school community and the local Burke community as well.
Stand Up to Cancer Events Held October 2012-January 2013
At the informational booth at Taste of Robinson on Oct. 19, 2012, a community event, the students introduced the project. The event was also the Homecoming football game for Robinson. The Stand Up to Cancer booth attracted many donors and cultivated interest from the primary and secondary target market.
Students sold the Stand Up to Cancer Ribbon Banner and offered it during every event and collected signatures from the Robinson Community to fundraise and demonstrate community involvement in the project. Students hung multiple banners with several hundred signatures in memory or in honor of those affected by cancer.
The DECA club made fundraising efforts at "Touching Bases" on Nov. 12, 2012, during Veterans Day. Robinson Secondary had a four hour delay in order to allow parents to communicate with teachers about their child's academic progress. This enabled the DECA students to reach their secondary target market through fundraising towards their $5,000 goal and distributing flyers for upcoming awareness day events.
Pink-out day for breast cancer awareness, on Nov. 13, 2012, raised awareness through a smash of color. Similar events were later held: Lime-out day for Lymphoma awareness, Nov. 27, 2012, and Orange-out for leukemia awareness, on Dec. 7, 2012. Lavender-out day for all types of cancer awareness, held Tuesday, Jan. 15, was the final color-out cancer awareness day, dedicated to all types of cancers. The color-out event promotion consisted of clips on GMR, a broadcast announcement from School Principal Dan Meier, posting flyers, electronic marquee announcements in the main hallway, social media promotion through the DECA Robinson twitter page and group facebook posts, and DECA member announcements during lunch and classes.
The Robinson students used Paul Mitchell hair extensions on Nov. 13, 2012, in a partnership with the local Paul Mitchell School to sell hair extensions during all lunches on the day of our pink-out. Through the DECA-Paul Mitchell School combined efforts, a percentage of the money raised in the event was donated to the organization "CancerSchmancer."
The ASK gift card collection contest, Nov. 30 through Dec. 14, 2012, was held in all first period classes to promote to the primary target market and to promote partnerships with the Future Business Leaders of America. The contests entailed the FBLA ASK project donating gift cards to The Children's Hospital to lessen the financial burden of families affected by cancer.
One of the largest events was Hat Day, Dec. 7, 2012. For this day, students could pay $5 to wear a hat during the entire school day and receive a sticker receipt in exchange for their donations. The Robinson DECa chapter assisted with this event in volunteering during lunches to help presale as well as volunteering to collect donations the morning of the event.
Black-out for Skin cancer awareness, Dec. 19, 2012, promoted the Stand Up to Cancer project through a tee-shirt day.
On White-out Day for lung cancer awareness, Tuesday, Jan. 8, the students formed a partnership with the Student Government Association. The week of Jan. 8 was the Student Government Association Ice fest student spirit week, so as a means of co-promotion the DECA chapter hosted a lung-cancer awareness day on the day of the Robinson basketball game.