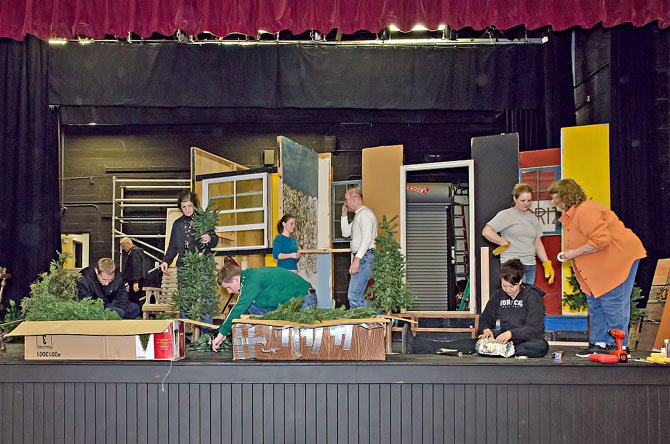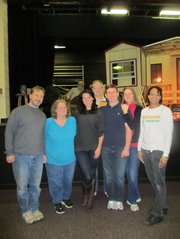 Vienna Theatre Company lives in Vienna. At home in the Vienna Community Center, the community theatre draws local thespians and artistic and technical crew. On Jan. 25, the production company debuts a light-hearted glimpse into multi-generational dynamics, "Proposals," by star playwright Neil Simon.
"I think a good story well-told is a good evening spent," said Director Suzanne Maloney, whose father founded the Vienna Theatre Company. "And this is a good story, my favorite kind of story, families working through complicated relationships."
Maloney's father, Norman Chaudet, taught drama at James Madison High School and Maloney herself graduated from George C. Marshall High School. She says she "grew up" backstage. Her first job was while she was in sixth grade, dressing Guinnevere for Camelot. "I still think theatre is magic," said Maloney.
Like Brighton Beach Memoirs and Biloxi Blues, "Proposals" is a slice of nostalgia.
ON A SUMMER DAY in 1953, the Hines family gathers at its summer home in the Poconos. Father, daughter and housekeeper face a past that intrudes on their futures with apprehension, trepidation, and a bit of confusion. With young love and old love weaving through the story line, the family's housekeeper narrates their predicaments.
Seven of the "Proposals" cast and crew live in Vienna, including Maloney, and, while their backgrounds differ, their affection for theatre is a common thread.
Shannon Madden moved back to Vienna after working in film in Los Angeles. Vienna Community Theatre provides her with an outlet to continue acting. Her character, a lead, is someone that Madden says she learns more about each day. "I figure out things in my character I can relate to."
Eric Storck owns a landscape business but plays and theatre, he said, have always been a part of his life. It's his creative outlet. A father of children in Vienna-Oakton schools, Storck is currently directing a kids' show at Oakton Elementary.
Rachel Comer, who, along with her husband Kevin, are working on "Proposals," sees a connection between theatre and her field, engineering. "Theatre backgrounds make better engineers because theatre helps them to think outside the box," Comer said. Kevin Comer came along with Rachel the day she volunteered to work with VTC but was asked to read lines. He did and is now a cast member, while working as an engineer and on his Ph.D.
Some VTC participants, such as Tom Epps, majored in theatre but have gone on to other professional careers. Tom Epps, engaged in live theatre for about 50 years is one.
A business analyst by day, Epps continues to stay involved with live theatre because, to Epps, theatre is about "making magic. There's a lot of problem-solving in it, too," said Epps.
Kimberly Crago—like Madden—has an L.A. background, with both an undergraduate and master's degree in theatre. It was only last summer she discovered the Vienna Theatre Company. Now, she volunteers with them in different capacities. With "Proposals," Crago is working the light board. Her dream is to publish a play. "I would encourage kids to pursue theatre, but to have other options, too."
The Vienna Theatre Company is sponsored by the Town of Vienna Department of Parks and Recreation. The company presents three shows each year in the auditorium of the Vienna Community Center.
TICKETS for the Vienna Theatre Company's production of "Proposals" are on sale at the Vienna Community Center, 120 Cherry Street SE. Tickets are $13 general admission and $11 for students and senior citizens over the age of 65. Performances are scheduled for Jan. 25, 26 and Feb. 1, 2, 8, and 9 at 8 p.m. and on Feb. 3 and 10, at 2 p.m. For more information, call 703-255-6360 or visit http://www.viennava.gov/.