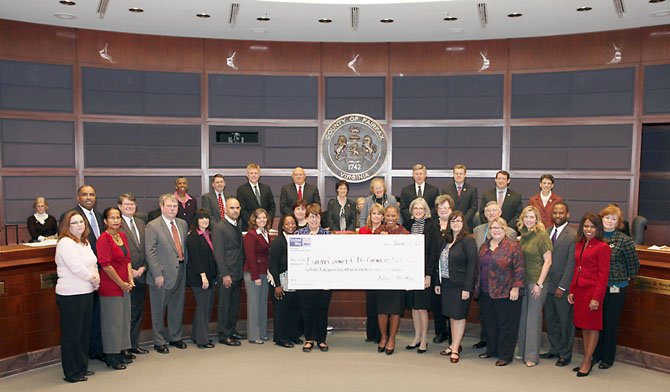 Several nonprofits providing health and education services in Fairfax County were awarded 20 grants totaling $218,360 from the United Way of the National Capital Area (United Way NCA) during the Tuesday, Jan. 1, Board of Supervisors meeting.
The funds came through designations to the Fairfax/Falls Church Community Impact Fund in United Way NCA's annual workplace giving campaign.
Recipients included FACETS, Herndon-Reston FISH, Just Neighbors, Lutheran Social Services of the National Capital Area, Main Street Child Development Center, Northern Virginia Family Services, Our Daily Bread, Shelter House, The Arc of Northern Virginia, United Community Ministries, and Western Fairfax Christian Ministries and others.
Our Daily Bread, which provides emergency safety-net services and financial literacy education to those living at or below the poverty level in Fairfax County, will use its grant to extend and expand the organization's financial literacy services.
"Our financial literacy program teaches basic budgeting skills and other financial tools that clients can use to remain self-sufficient for the rest of their lives," said Executive Director Lisa Whetzel. "Working families who are struggling to make ends meet need strong budgeting tools to make every dollar they have work for them. Financial education rounds out our emergency safety net services because it provides more than a band-aid in a time of crisis—it empowers people to take control of their finances and their lives."
Each of the grants directly addresses United Way NCA's focus areas of education, health and financial stability. In total, nearly $1.65 million was raised through Community Impact Funds in United Way NCA's eight regions, thanks to the support of employees from more than 800 workplaces with more than 3,000 locations throughout the Washington region.
"United Way Community Impact funding is vital to ensuring that 24/7 crisis and suicide prevention services are available to anyone in Fairfax County and Falls Church," said Julia Stephens, executive director of CrisisLink.
Each year, United Way NCA solicits funding proposals from its member nonprofit organizations for specific programs and work in the Fairfax/Falls Church community. This year, member organizations submitted 88 proposals totaling $1,751,700. Funding decisions are made by a volunteer, citizen-led task force that works together with area nonprofits, governments and business leaders to determine where there are gaps in services and where the funds will do the most good.
"The members of the selection committee are citizens first and professionals second," said Cassia Sookhoo, a credit analyst with Wells Fargo, who served on the Fairfax/Falls Church Community Impact committee for the second year in a row.
"The generous contributions from the Fairfax/Falls Church community, the teamwork of the selection committee volunteers, and the localized, collective power of the Community Impact Fund showcase what Living United is all about," said Bill Hanbury, president and CEO of United Way NCA.
For more information about United Way of the National Capital Area, visit www.unitedwaynca.org.