Town Manager Mercury Payton has announced the appointment of James "Jim" Morris as Vienna's new chief of police. He will succeed Colonel Robert Carlisle, who retired on Jan. 1, after serving almost 12 years as chief of the Vienna Police Department.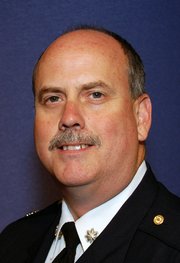 Morris was selected from among 108 candidates. "Jim's reputation as a strong leader with high integrity, his many years of experience as a high level local law enforcement official in the region and his desire to work intimately with the community truly set him apart," said Payton. "He is a highly regarded and respected member of the law enforcement community and is going to be a great addition to Vienna." Morris has been with the Fairfax County Police Department for 24 years and has held numerous positions within the department during that time. He is currently serving as acting chief of police and is deputy chief of investigations and operations. Previously, he served as deputy chief of administration, commander of the Internal Affairs Bureau, station commander, shift supervisor at the county's 911 Center, patrol sergeant and police officer. In addition, he served as a school liaison commander with the Fairfax County Public Schools system.
Morris attended the Senior Executive Institute at the University of Virginia, the FBI National Academy and the Fairfax County Criminal Justice Academy. He holds a bachelor's degree in criminal justice from Edinboro University of Pennsylvania.
Morris' starting salary is $146,331 and he will assume his official duties on Monday, March 25, 2013.