Unique in size, shape and personality, pets often times have significant impact on owners. They teach the people around them many lessons—everything from responsibility to love to living in the moment, and bring joy to all ages, as Great Falls residents will say.
Photo Gallery
Great Falls Pets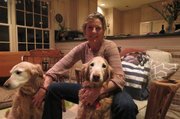 Click Photo for Flash
Having grown up with pets, animals have always had a place in Amelia Clark's life. The Great Falls resident and mother of two is the owner of two Golden Retrievers—Libby and Chessie. "Libby's formal name is Liberty Freedom," said Clark. "We adopted them in October 2001, soon after 9/11, so we decided on Liberty Freedom. And Chessie is short for Virginia Chesapeake," a unique combination of two geographical names that serve as a reminder of home for the Clarks. While they were originally adopted to be hunting companions, Libby and Chessie quickly turned into family pets with a much bigger impact on the entire family.
"One special thing about Libby is that she smiles," she said. "And every morning, she leaves a special gift for us—a glove, sock, always something—on the front carpet. And Chessie is so sweet and loving, too." As a pet owner for much of her life, Clarke believes in the significance of having a pet. "They become one of the family," she said. "It teaches [the kids] not to be afraid of animals and the family to appreciate animals in life. They add another layer of love to the family."
"They keep on teaching me the joy of the moment."
-- Great Dogs of Great Falls owner Linda Waitkus
FOR DEVIN CHRISTENSON, 14, having pets has taught her responsibility. With two horses, Thunder and Ezzra, a dog, Paco, and a rabbit, Thumper, the O'Connell High School freshman is more than comfortable around animals. "We grew up with Thunder, so it is like having another family member," she said. "It's taught me a lot of responsibility—we have to take care of them all year round. They are good to have around," she said.
Ariana Ragonese, owner of a 7-year-old beagle, will agree. "She's taught me responsibility," said the British School of Washington freshman. "I need to think of when to feed her dinner, if she's okay, and take her out. It's like having another person to look after and teaches me not to just think of myself." After spotting her at Run Away Rescue in Sterling a year-and-a-half ago, Ragonese couldn't help but fall for the dog. "She's very, very sweet."
Oakcrest School ninth grader Stephanie Dolan, 14, has also grown up with pets—having everything from dogs to fish to a bird in her house over the years. The pet that has had the biggest impact on her, though, is her black Labrador retriever, Lucky—a name that proved true to her nature after she survived being hit by a car as a young puppy, sustaining only a broken hip.
"Lucky was the smallest one of the litter," said Dolan. "We drove all the way to West Virginia to get her." Now at 12 years old, Lucky continues to hold a special place in the Dolan family. "We love her. When we go for walks or even now, we're just sitting [with] her doing our homework, she always keeps us company."
One Great Falls resident who can truly testify to the significance a pet can have in one's life is Great Dogs of Great Falls owner Linda Waitkus. Located in the Great Falls Town Center, Waitkus welcomes customers and their pets with her own 7-year-old golden retriever Oliver sitting nearby. As an animal enthusiast, she's been around pets, particularly dogs, for much of her life. After moving out of a city and into a more open environment, she was able to give in to her sense of devotion to a pet once again. Determined to find a Golden Retriever, she soon found more than just a companion.
"Not only did it bring joy to my life, but it changed my career," she said. As the former general manager of Bloomingdales at Tyson's Corner Mall, Waitkus decided to take her skills and match it with something she has always been passionate about—dogs. "Because of my deep love and affection for that dog and all that I did to learn about what a dog needs, I decided to take the best of my retail career and my love for dogs and put them together, and here we are." Now the owner of her third dog since then, Waitkus is the first to admit that she's learned a lot as a pet owner.
"They keep on teaching me the joy of the moment. They are definitely in the moment animals," she said. "They don't worry about the future or the past. They worry about what's going on right now and as humans, that's really hard for us. I work hard to understand that. I just enjoy them—enjoy what they're into; all their goofy-ness. They make you happy and they do make you laugh."
Oliver seems to epitomize being a great companion and wonderful customer service, often coming out from behind the desk and having fun when visitors and other dogs come into the store. "He is an outstanding shop dog. He's so calm," said Waitkus. "He's only 1 year old and he's calm already. He loves people and other dogs; he loves to be loved."
STEPHANIE YOUNG, 13, knows the feeling. With three dogs—two 18-month-old Jack Russell terriers, Lexie and Tychus, and a 10-year-old Siberian Huskie, Boris—at home, Young has learned the benefits of positive reinforcement. "She loves me and I love her—it's unconditional," she said, holding her smallest Jack Russell, Lexie. Her mother, Barbara, agrees. "We've always had pets. They're so good for the kids to learn how to teach others, in a fun, nice way" she said. "They are always good to talk to. They bring joy, and they're just always happy to see you."