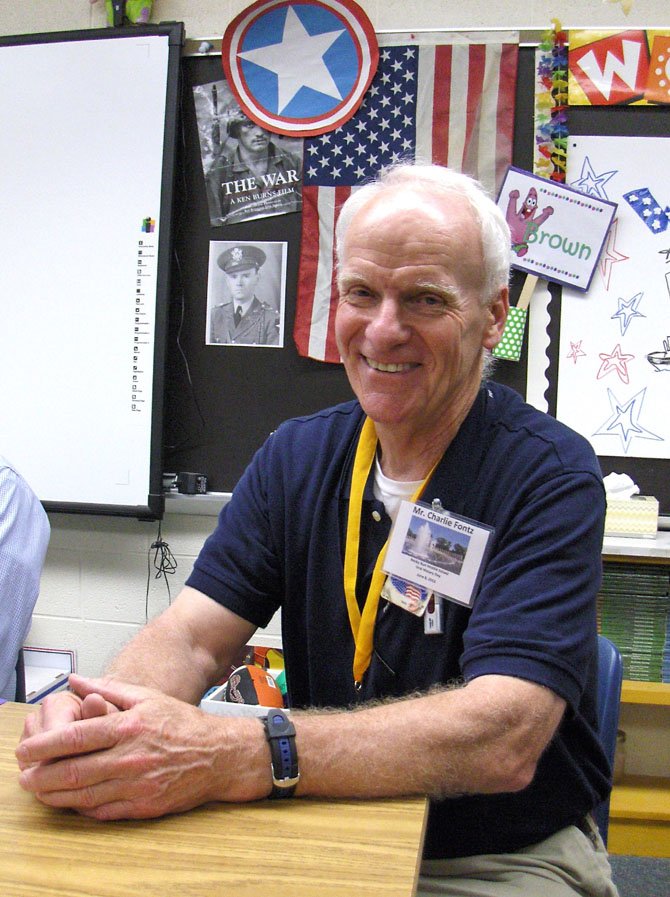 Centreville — Each year, Rocky Run Middle School invites veterans to participate in its annual World War II day. This year, it extended an invitation to veterans of more recent wars, as well, and they, too, enjoyed imparting their knowledge and reminiscences to the students.
One of them was Rocky Run's librarian, Charlie Fontz, who shared his own military experiences. Before joining the school and beginning a second career in education, he served 21 years in the Navy, retiring as a commander. And as a young lieutenant, he was a helicopter pilot, flying H460s in Vietnam.
"We went to all the major port cities there," he said. "I was the logistics pilot, we and carried machine guns, ammunition, mail, cargo and movies to the Navy ships and our Navy facilities on shore in Vietnam. Mail and movies were especially big for the troops' morale."
During his career, Fontz flew in the Atlantic, Pacific and Mediterranean theaters. "Most of the time, I was assigned to a ship's air detachment," he said. "I was even a ship's operations officer in the Mediterranean, in addition to running the air detachment."
Because of his military duties, Fontz was away 24 months during the first three years of his marriage. "That's always rough on families, especially during wartime," he said. "And back then, we didn't have instant communications.
"When my wife and I had our first baby, I was at sea off Vietnam and I heard the news by telegram communicated via MARS [Military Auxiliary Radio System] radio operators. So after telling your wife, 'I love you,' you then had to say, 'Over.'"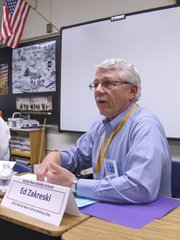 Now, said fellow Vietnam vet Bill Marriott, "Guys in Afghanistan talk to their families via telephone, Skype, e-mail and Twitter, so it's quite a difference." During the Vietnam drawdown, he served in the Army Signal Corps. "I provided telephone service by day and got shot at every night," he said. "They lobbed mortars and rockets at us."
Army vet Ed Zakreski was also in the Signal Corps, serving in Da Nang, in North Vietnam. "In war, half of the jobs are support jobs," he said. "I got to work in an air-conditioned building because the telephone equipment was so warm. It was a big deal because we were in a country with high humidity and temperatures over 100 degrees."

Larry McKinley was a Medevac helicopter pilot with the Army Medical Service Corps in Vietnam and the Gulf War. "The two wars were so vastly different in their structure," he said. "I talk to the kids about Vietnam. I loved what I did; I rescued people and flew something important in the way we fought wars."
"We took troops and supplies to the war, and injured soldiers back to the hospital in a timely fashion," continued McKinley. "We sometimes had support from gunships. I was 21 during the Vietnam War and, in Desert Storm, I was 45 and commanded a unit."
When he was younger, he said, "I thought I couldn't get hurt. Later, I wanted to get home safely. In Vietnam, I was primarily in the delta where they grew rice. But I was the pilot; my crew chief and my medic in the back of the helicopter saved lives."