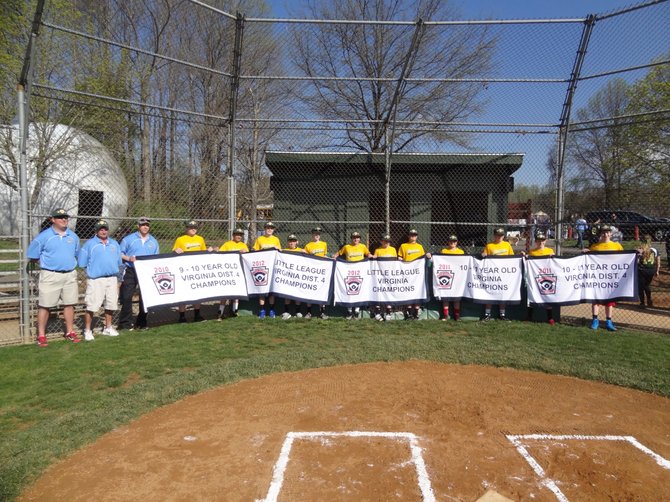 The Great Falls All Star youth baseball team not only won the District 4 Championship and the VA State Championship last year as 12-year-olds, but also beat the South Carolina State Champions (12-1) and the West Virginia State Champions (13-0) last year in the SE Regional Tournament. They also beat the Tennessee State Champion team (4-3) in pool play—the team that went on to win the Southeast Regional Championship and ultimately the US Championship at Williamsport. The Great Falls All Star team was the only team to defeat them other than Japan in the LL World Series Final.
The Great Falls All Star team was eliminated in the SE Regional Semi-final in a game against Warner-Robins, Ga., that was televised on ESPN2 and played against an unfriendly Warner-Robins crowd of over 9,000 people.
The team has won three District 4 Championships as well as two VA State Championships; their accomplishments are unprecedented, not only for Great Falls, but for any of the Northern VA Little League Programs as well.
As a whole, the team has had 33 wins and five losses and outscored opponents 438 to 78; they held three back-to-back District 4 Championships; two back-to-back state championships; and two Southeast Regional Semi-final Appearances.
The 2012 team players are Chase Beckett, Colter Carton, Timmy Conforti, Lucas Donlon, Colin Farrell, Danny Hosley, Josh McQuaig, Iain Muir, Jake Nielsen, Kyle Novak, Max Trautwein and Jason Volpicelli.
The team manager is Ryan Novak and the coaches are Bruce Carton and Jim Volpicelli.
On the Tournament of State Champions website, Great Falls players still own about 12 various offensive records from regional play.