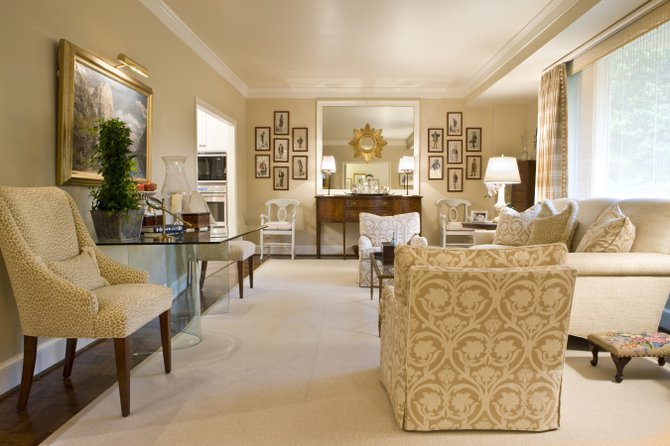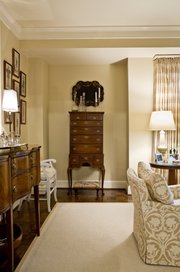 When a retired couple decided it was time to leave their sprawling suburban home, they wanted to downsize without giving up luxury. As a result, they purchased a high-end condominium and hired Bethesda, Md., based interior designer Kelley Proxmire of Kelley Interior Design to create a serene and sophisticated space.
"The couple are retired professionals, empty nesters who lead active lives and didn't want the maintenance of a single family home," said Proxmire. "[They] wanted to blend the furniture, accessories and mementoes they had each collected. … They wanted a home that was elegant, comfortable, and that also allowed them to lock and leave on a moment's notice."
Proxmire's clients are part of rebound in the high-end condominium market. The National Association of Realtors® reports that condominium purchases are on the rise, and says that sales are 13.9 percent higher than they were at the same time last year.
David DeSantis, a partner at TTR | Sotheby's International Realty says his company has seen an increase in luxury condominium sales in the Washington region in recent months. "In the past several months we have broken records for high-end condo prices, and we recently sold the most expensive condo ever sold in the Washington region, which was $7.5 million," he said. "We sold a number of condos at Turnberry Tower in Rosslyn [Arlington]."
"In the past several months we have broken records for high-end condo prices, and we recently sold the most expensive condo ever sold in the Washington region, which was $7.5 million."
— David DeSantis, partner, TTR | Sotheby's International Realty
COMMUNITIES LIKE the Oronoco in Old Town Alexandria; Market Street at Town Center in Reston, and Quarry Springs in Bethesda attract those who want both luxury and convenience. "The appeal of these buildings is the fact that you've got these large apartments that are like homes except with a health club and concierge service," said DeSantis. "The close-in suburbs are good places to live. There are good stores, good restaurants and you don't have the issue of a long commute to work."
Realtors say that properties close to public transportation are in demand. "Reston is on fire. The condos are turning very quickly there because the Metro is coming," said Great Falls-based realtor Dianne Van Volkenburg of Long & Foster Companies. "Reston is one of the places where inventory is extremely limited, so you're getting multiples offers over list price."
Alexandria-based realtor Allison Goodhart of The Goodhart Group of McEnearney Associates, Inc. said, "Sales and showings for properties have really picked up across the board in Alexandria City. The Oronoco is all high-end, one-level condos near the Old Town [Alexandria] waterfront and those are selling very well."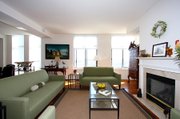 Bob Wulff, Ph.D., director of the Center for Real Estate Entrepreneurship and the master's in real estate development program at George Mason University in Fairfax, says there are two primary types of buyers who are drawn to condominiums. "There are first time homebuyers and move-down homebuyers who've sold their large suburban homes," said Wulff. "Move-down buyers are looking for luxury in a walk-able neighborhood that is near mass transit."
DeSantis agrees. "A big portion of those clients are the empty-nester crowd," he said. "Their kids have graduated from college and they are looking for a lifestyle change. These people were not pinched by the recession, but it also wasn't a good time to sell their big house in suburbs."
In addition to empty nesters, DeSantis says that high-income professional singles and couples often choose luxury condominiums. "Those two groups are leading to the up-tick in sales," he said.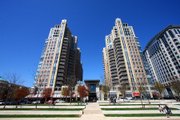 Walter Molony, economic issues media manager for the National Association of Realtors, says the boost in condominium sales is the result of a stronger economy. "It is part of the rising tide that is floating all boats," he said. "After four years of a sluggish economy that impacted people's confidence, affordability conditions have improved and people have the wherewithal and the confidence to buy. There is less inventory in the low-end market, and there are more buyers than sellers, which is driving demand up."
DeSantis said, "For the most part, the Washington, D.C., area was not hit as hard, so we're coming back faster. One of the things that we've seen in the real estate industry is that there's no shortage of people in this market who have the resources to buy high-end housing. They held off on buying while the direction of the economy … was unclear, but people are now willing to spend the money that they've had all along."