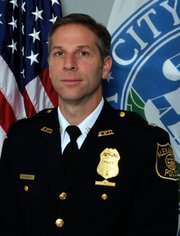 "Dave was instrumental in working on a region-wide mutual aid agreement for SWAT operations for the Council of Governments police chiefs."
— Arlington County Police Chief Douglas Scott
The Alexandria Police Department recently named a new deputy chief, David Huchler, to its ranks. Huchler, 44, is a 21-year veteran of the department and a respected choice outside the department as well. He served in each of the four bureaus: in patrol, criminal investigations, and the Office of Intelligence and Homeland Security. He also served as a special operations team member and a community oriented policing (COPS) officer. Most recently, he commanded the Traffic, Special Events and Parking Division of the Operations Support Bureau and is also the Special Operations Team commander.
Huchler oversaw the 2010 Commission on Accreditation for Law Enforcement Agencies regarding the accreditation process for the police department. He was selected and served as a fellow for the Police Foundation Fellowship Program in Washington, D. C. from November 2011 until May 2012.
"I've always had an affinity for police operations. We get to reduce crime and improve the quality of life," Huchler said. He always enjoyed working with and engaging the community. As deputy chief, he wants to continue to focus on three areas for greater opportunities: the city, the citizens, and the officers. "I believe it is important for the police department that we are training and educating and providing tools for officers to be successful in their jobs. This service to the community needs to be an engaged service where we partner with the community to improve the quality of life," Huchler said. He also believes it is important to maintain relationship through partnerships with other departments in the city. "We have a great working relationship with them," he said.
From his experience with the SWAT community, Huchler has worked with other law enforcement agencies throughout the region. He understands how crucial those relationships are. "It's so important," he said. He pointed out that investigators maintain them on a daily basis. He realizes the importance of the flow of information, the ability to talk with one another and the availability of inter-jurisdictional training opportunities. "It's important I reach out to my counterparts in other agencies," he said.
IN HIS NEW POSITION as deputy chief, Huchler will have many opportunities to draw on his experience. "My challenge is to continue to keep that downward trend of crime and to continue to break that barrier. The Police Foundation was a great experience for me. They do a lot of research on innovative police work," Huchler said. He acknowledged that having that relationship and that resource will enable him to utilize the learning and research as well as further develop and make additional progress in the advancing the police department.
Deputy Chief Blaine Corle welcomes Huchler to his new position. "He is a wonderful choice. He brings the skill set, personality and experience needed with that position. He has a strong background in special operations. He is a perfect fit. He is the type of guy everybody respects. I think he will bring a newer breed of leadership. People like him are the future of the agency," Corle said.
"David is a dedicated, conscientious, hard working police professional who has demonstrated exemplary leadership, problem-solving, and interpersonal skills his entire career. He cares deeply about our city and the safety of our citizens. He is an exceptional addition to an already strong leadership team within the department," said former Alexandria Police Chief David Baker.
"I was happy to hear Chief Cook has selected Dave Huchler for deputy chief. I've known Dave for several years. He's been a strong leader for Alexandria and a great regional partner. Dave was instrumental in working on a region-wide mutual aid agreement for SWAT operations for the Council of Governments police chiefs. Arlington and Alexandria SWAT teams have supplemented and relieved each other's teams during prolonged incidents. It is because of sound leadership from people like Dave that chiefs and sheriffs have the confidence to use SWAT assets and their commanders in such sensitive and dangerous situations," said Arlington County Police Chief Douglas Scott.
Gavin Latney, director of Safety, Security and Emergency Management, at Inova Alexandria Hospital, has worked with Huchler on safety and security issues involving the hospital. "Dave has very good insight and vision that he shared when he used his expertise of what we needed to do and the direction we needed to go and goals for the hospital. He really listens to what you have to say, and I think that is important in the new endeavor he is taking on. I'll look forward to working with him," Latney said.
Huchler is well regarded by patrol officers as well. "I found him to be very professional and fair. I think he will do well," Officer Seth Weinstein said.
"It's going to be a real exciting experience. I look forward to working with all the officers and the community, "Huchler said.
Karen L. Bune serves as an adjunct professor in the Department of Criminal Justice at George Mason University in Fairfax and Marymount University in Arlington. She is a criminal justice consultant.