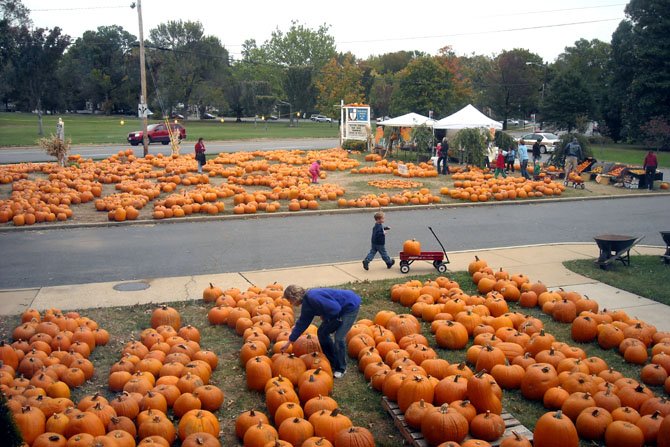 Alexandria — As the seasons change, so do the activities that keep us busy. With crisp air, apple pie and leaf-peeping upon us, we say so long to flip flops, air conditioners and barbeques. And while it may not always feel like it, the fall season is officially here and there is no better time to grab family and friends and see what the city has to offer.
Photo Gallery
Festivals, Foliage and Fun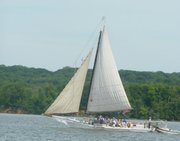 20 things to see and do this fall.
Click Photo for Flash
"There is no more beautiful place to live than Alexandria in the fall," said Mayor Bill Euille. "There are so many things to do at this time of year, from festivals to high school football and youth sports leagues."
Winter will be here soon enough, so before bidding farewell to a fleetingly beautiful time of the year, get out there and make the most of fall with this list of 20 things to do in Alexandria.
17th Annual Art on the Avenue - A multicultural arts and music festival for and by locals. Entertainment, art activities and a pie-baking contest along with 350 artisans displaying and selling their work. 10 a.m.-6 p.m. Oct. 6 on Mount Vernon Avenue between Hume and Bellefonte Avenues. www.ArtontheAvenue.org.
Salvation Army Flea Market - While strolling Art on the Avenue, be sure to stop by the Oct. 6 Salvation Army Women's Auxiliary Flea Market at 1804 Mount Vernon Ave. 10 a.m. to 6 p.m.
Arts Safari - Free hands-on arts and crafts activities for children. Oct. 13 from noon to 4 p.m. Children will enjoy the Clay Experience, Arts Safari Painting, Fabric Collage, Origami Art, Giant Paper-Mache Animal, and more. Torpedo Factory Art Center, 105 N. Union St. www.torpedofactory.org.
Skipjack Minnie V. - Enjoy the fall foliage with a sail along the Potomac on a 1906 45.3' long two-sail bateau. Now docked in Old Town, the Minnie V. is one of only 35 surviving traditional Chesapeake Bay skipjacks. www.potomacriverboatco.com
Immanuel-on-the-Hill Pumpkin Patch - Bundle up in the coziest sweater and head out to pick the perfect pumpkins and gourds for fall dining and decorating treats. First shipment arrives Oct. 7 at 11:30 a.m. with a second at 4 p.m. on Oct. 17. Through Oct. 31 at 3606 Seminary Road. www.icoh.net.
16th Annual Del Ray Halloween Parade - Join in the fun Oct. 28 at 2 p.m. by either participating or just watching the decorated strollers and costumed kids, adults and pets parade along Mount Vernon Avenue for this annual tradition. Sponsored by the Del Ray Business Association, they also collect and distribute costumes to children in need. www.visitdelray.com.
Woodrow Wilson Bridge Half Marathon - Join or cheer on 5,000 runners on Oct. 7 in this third annual race from Mount Vernon Estate to National Harbor. The view while crossing the bridge will keep one motivated to cross the finish line. www.wilsonbridgehalf.com.
See a Show - Alexandria is home to the Alexandria Symphony Orchestra, MetroStage, The Little Theatre of Alexandria and Port City Playhouse. All offer professional quality and affordable entertainment. www.alexsym.org, www.thelittletheatre.com, www.metrostage.org, www.portcityplayhouse.org.
Bike the Sights - Tour the fall foliage and historic sights of the city by bike. Numerous bike rental options in town, including Bike and Roll, which provides guided tours as well. 1 Wales Alley www.bikethesites.com.
Think Pink! - join hundreds of Alexandrians Oct. 20 at the city's annual Walk to Fight Breast Cancer. www.alexandriava.gov/women.
T.C. Williams Football games - Show hometown Titan pride by supporting this year's team. Remaining home games on Oct. 13 and 20. www.tcwilliamsathletics.org.
Get Spooked - Take a haunted hike through the historic streets of Old Town with a Ghosts and Graveyard Tour from Alexandria Colonial Tours. Great for a group of friends or family visiting during the holidays. www.alexcolonialtours.com.
6th Annual Alexandria Film Festival - Explore the world without leaving town. Set to be held Nov. 16-18, the festival will show an eclectic collection of films from a handful of countries around the globe. At locations throughout the city. www.AlexandriaFilm.org
Fall Harvest Family Days - Mount Vernon Estate welcomes the autumn season with Fall Harvest Family Days Oct. 27 and 28 from 9 a.m. to 5 p.m. Wagon rides, wheat treading in the 16-sided barn, 18th-century dancing demonstrations, apple-roasting, corn husk dolls demonstrations and early-American games and music. Potomac River sightseeing cruises are half-price. www.MountVernon.org.
Del Ray Artisans 17th Annual Holiday Market - The market boasts artwork from local artists, music from multicultural musicians and food from local restaurants. At Colasanto Park in the heart of Del Ray. Free and open to public. Nov. 30-Dec. 2, Dec. 7-9 and Dec. 14-16. www.TheDelRayArtisans.org.
Autumn Firefighting History Walking Tours - Explore Alexandria's firefighting history with two tours, beginning Oct. 13 with "Blazing a Trail: Alexandria's Firefighting History." On Oct. 27 and Nov. 3, learn how volunteer fire companies were treated by Federal authorities when Alexandria was an occupied city with the "We've Been Burned: Alexandria Firefighters During the Civil War" tour. Friendship Firehouse, 107 S. Alfred St. Reservations required. www.friendshipfirehouse.net
Del Ray Turkey Trot 5-Miler - A Thanksgiving Day tradition for 37 years, the Nov. 22 race will also feature a food drive for the Alive! food bank. Note the new starting time of 9 a.m. at George Washington Middle School. www.visitdelray.com/turkeytrot
Halloween on S. Lee Street - Join the fastest growing place to be on Halloween night. Costumes are optional but residents are encouraged to just wander the streets and take in the best Halloween decorations in the region.
Get Lost in Space - The T.C. Williams High School Planetarium is one of the best kept secrets in town and provides an opportunity to momentarily escape the city and enjoy a monthly program that educates and entertains the science geek in all of us. Monthly programs begin at 7:15 p.m. Registration is required and opens the first Monday of each month. 703-824-6805 ext. 6300.
Bless Your Pets - All creatures great and small are welcome to be blessed at the 6th annual Blessing of the Animals at St. Andrew & St. Margaret of Scotland Anglican Catholic Church in Del Ray. In addition to the blessing there will be free pet medals and treats for furry friends. Other activities will include pets for adoption and a petting zoo with farm and exotic animals. Oct. 6 from 10 a.m.- 2 p.m. 402 E. Monroe Ave. 703-683-3343.