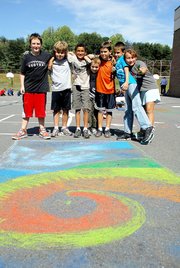 Students at Armstrong Elementary participated in Chalk 4 Peace on Thursday and Friday. Armstrong Elementary art teacher, Jordon Citron, said this was his first year organizing Chalk 4 Peace at Armstrong, but that the school participated in the activity last year. "The kids love it," said Citron.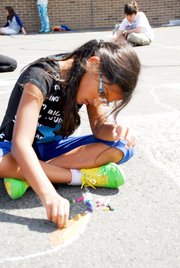 "We ask the students how they envision peace," said Citron. With lots of chalk and some beautiful weather, they set out to draw on the basketball courts at Armstrong. Over a two-day period, all students had the opportunity to participate in the activity.
"I think it's really cool. Kids get to draw and express themselves," said fifth grader Michaela Gamble, who, along with Mehr Schgall and Katie Weiss, was coloring in a hand held up in a peace sign.
"It's fun and creative. I think it's a great idea to draw for peace," said fourth grader Sydney Bourdeau, who drew a bright rainbow.
Chalk 4 Peace, organized by Arlington artist John Aaron, had its beginning as a Sunday sidewalk art project. Since then it has grown; Chalk 4 Peace events are held across the country and on four continents. All events are held in the month of September. The goal of Chalk 4 Peace is to promote the arts by coordinating young artists to draw their vision of peace with sidewalk chalk.