Alexandria — He is a native Dubliner but for decades, chef Cathal Armstrong has made Alexandria his home, opening his signature Restaurant Eve in 2004 and creating The Eat Good Food Group with his wife Meschelle. On Nov. 13, Armstrong will be honored as the 2012 Alexandria Chamber of Commerce Business Leader of the Year at a reception to be held at Rachel M. Schlesinger Concert Hall and Art Center.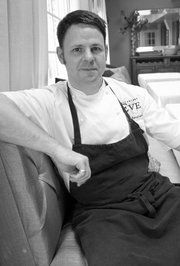 "I'm honored to be part of a great community of business leaders and I'm proud to call Alexandria home," said Armstrong, whose other restaurants include The Majestic, Virtue Feed and Grain, Society Fair, Eamonn's A Dublin Chipper, PX and Bar TNT.
In addition to paying tribute to Armstrong, the Chamber of Commerce will present awards to Alexandria businesses in the following categories: Eco-Friendly Business; Large Business; Small Business; Association/Non-Profit and overall Business of the Year.
Armstrong was selected for the chamber's top business award for his dedication and exemplary leadership in the business community. The Eat Good Food group sources local ingredients while promoting sustainability and Armstrong and his wife give back to the community through charitable works including Chefs As Parents and Fresh Farm Markets.
Armstrong is a Best Mid-Atlantic Chef nominee by the James Beard Foundation in 2011, selected as both Food & Wine magazine's "10 Best New Chefs 2006" and honored in Food & Wine magazine's "50 Hall of Fame Best New Chefs" and Best Chef Award Winner by the Restaurant Association of Metropolitan Washington D.C.
Armstrong's significant contributions to the local food movement have garnered him accolades that include The National Restaurant Association "Neighborhood Community Award," Edible Chesapeake Magazine's "Local Hero Award" and The Washingtonian Magazine's "Green Giant Award" for those who work to protect and preserve the environment and teach the virtues of green living. In addition, the White House has honored him as a "Champion of Change."
"The Alexandria Chamber is proud to honor to Chef Armstrong and have him join an exceptional list of business entrepreneurs as recipients of our Business Leader of the Year Award," said Chamber president and CEO John T. Long.
Armstrong follows in the footsteps of past Business Leader of the Year recipients that include: Taylor Burke of Burke and Herbert Bank and Trust Company (1994); Gant Redmon of Redmon, Peyton and Braswell (1995); WJD Associates - Donnie Wintermutte, Cindy Jackson and Becki Donatelli (1996); Randy Kell of The Mark Winkler Company (1997); Jim Wilding of Metropolitan Washington Airports Authority (1998); Mike Anderson of Mango Mike's Cool Caribbean Café (1999); Lou Scanlan of Outbounder, Inc. (2000); Bill Euille of Wm. D. Euille & Associates (2001); Roger Machanic of MRE Properties (2002); Jack Taylor of Alexandria Toyota, Inc. (2003); Kerry Donley, Virginia Commerce Bank (2004); Shawn McLaughlin, McLaughlin Investments, LLC (2005); John McEnearney - McEnearney Associates (2006); Lynn Hampton - Metropolitan Washington Airports Authority (2007); Mayor's Economic Sustainability Workgroup (2008); Charles Collum, Burke & Herbert Bank (2009); Charlotte Hall, Potomac Riverboat Company (2010) and Peter Converse, Virginia Commerce Bank (2011).
For information on sponsorships or tickets to attend the Business Awards Reception, visit www.alexchamber.com.