Supervisor Catherine M. Hudgins (D-Hunter Mill) has issued the following statement:
"On Tuesday, Sept. 11, the Board of Supervisors approved PRC 77-C-076—known as RTC Partnership. The building will be 23 stories, with a design reflecting one of the important Reston Principles. This "Class A" signature building will consist of approximately 413,700 square feet of office uses, 5,200 square feet of retail, with a floor area ration of 4.08.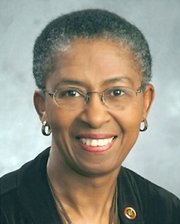 There have been issues raised regarding the height and density of this building—wrong place, absent residential and lack of compliance with the Reston Master Plan proposed language.
Tall buildings have been a part of the very beginning of Reston. The Sheraton Hotel and plaza lead the way to note your arrival in Reston, and Lake Anne, with all its striking design, is noted
by the rise of the Heron House residential building.
RTC conforms to the original design principles of Reston and will contribute to the continued enhancement of the already recognized and well-functioning Town Center, contributing to the future economic vitality of Reston and its surrounding communities.
The Planned Residential Community (PRC) District zoning in Reston has been marked with flexibility allowing ways to develop what is needed, when it is needed and where it is needed.
It has yielded amazing success in our community; preserving open space and connecting people, while remaining well known for its design and economic success.
The RTC application will not set a precedence in the development of Reston Town Center.
Rather, the 2.36 acres stands out as a unique place in the future planned development of Town Center. When completed, the work of the Reston Master Plan Task Force will serve an
important role to shape Reston's future."