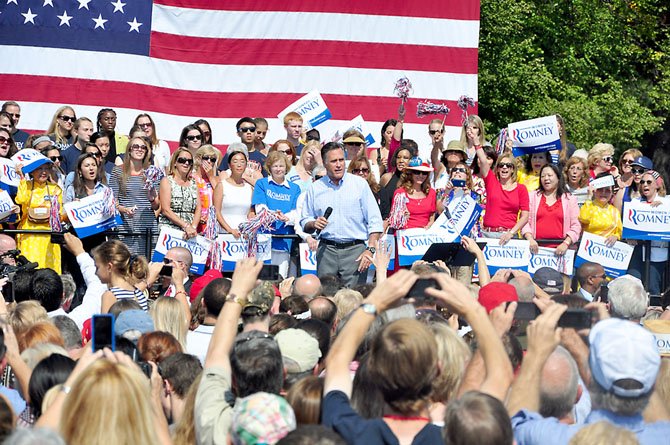 Fairfax — Republican presidential candidate Mitt Romney appeared in Fairfax, Thursday, Sept. 13, bringing almost 3,000 supporters out to Van Dyck Park. Attendees packed the streets surrounding the park all morning, and stayed in line even if they weren't able to get in throughout Romney's speech.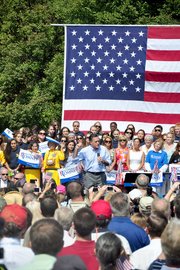 Romney, who said that "Northern Virginia could very well determine who the next president is," drew many locals who said they hoped to ensure he won Virginia.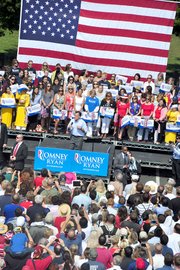 "It's going to come down to Virginia, Florida and Ohio in November, so I think, and hope, we'll be seeing a lot more of Mitt around here," said Dennis Blatt of Fairfax, who got in line first thing in the morning. "I think in Virginia it's going to come down to Northern Virginia, so hopefully he can start connecting with people who are ready for a change."
Debbie Munoz, the vice president of a small construction company, said she came out to support Romney because of his pro-business policies.
"Under the economy Obama presented with us, we've seen opportunities dwindle because of the size of our business," she said. "EPA regulations have strangled businesses like ours, we used to build gas stations, and I don't know if you've looked around to see how many have been built lately, but in 2008 we built our last gas station in Ashburn, Va. because Exxon and Shell and companies like those decided it just wasn't worth it to fight with the regulations the EPA was confronting them with."
"It's been a popular notion to dismiss Gov. Romney for his lack of foreign policy experience, but Obama came into office without a lot, and to be honest, I think the president has acquitted himself well in that field," said Sharon Finnegan of Falls Church. "So there's no reason to think Mitt can't learn on the job."
ROMNEY ADDRESSED foreign policy during his speech, bringing it close to home for many Americans who are affected by the economy.
"When China manipulates their currency by holding down their currency, what it does is make their products in this country artificially cheap. And that makes American manufacturers and producers out of business and kills job. The president has had a chance for years to label China a currency manipulator, but he hasn't done so. I will label China the currency manipulator they are on my fist day in office."
Romney cited a recent USA Today article as an example of the way the economy has affected employment and income over the past few years.
"These are tough times for American families who have work, and there are 23 million without work, or have stopped looking for work, or are underemployed," he said. "What our president has done the last four years has not helped, it has led to a $4,300 decline in median income, it's led to unemployment being above eight percent for 43 straight months."
Natalie Enoch, who lives nearby in Fairfax City, said she came to get a little better sense of who Romney the person was.
"I think in sounds bites and short clips he might come across as a little awkward, but I really saw his ability to address and connect with a large crowd," she said. "It's hard to separate rhetoric, because both candidates sort of say the same thing a lot of the time, but I think Mr. Romney has a clear vision, and if he can execute it we'll all be in a better place."