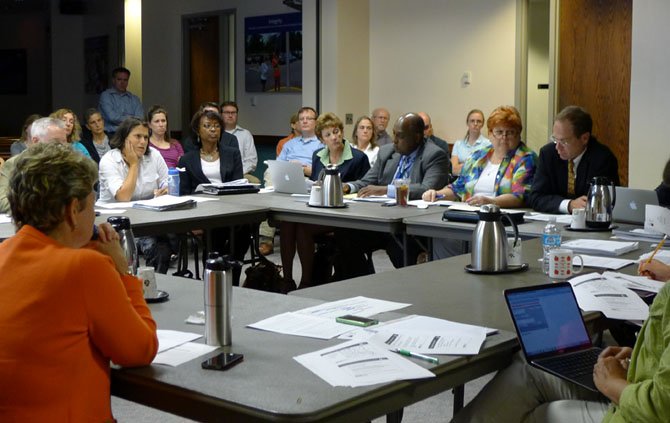 Arlington — More than 40 people, including School Board members, parents and staff gathered Sept. 12 for the first work session of the "More Seats for More Students" planning process to review the boundary changes as enrollment continues to grow.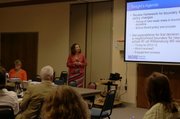 "Our discussions tonight are really beginning how we're going to develop a framework of moving forward with boundary and admission policy over the next six weeks," Superintendent of Schools Patrick Murphy said. "Once that framework is developed, then we'll be able to develop a schedule and ultimately reach to a decision."
The boundary policy process will begin with the School Board laying out schedules, listing affected schools and procedures for engaging community. Then staff will work with communities to list priorities. And the board will evaluate options and make a decision by February 2013. A public hearing will be held before the board takes action.
The goal is to have a transparent and structured process for changing boundaries, to engage and inform the community and to develop boundary and admission policy changes that best meet the needs of students, said Alison Denton, director of facilities planning at APS.
The enrollment of APS has grown by 15 percent since 2006. This year, about 1,000 more students enrolled in APS, compared to last year. More than 2,000 students — nine percent of student population — are now having class in 103 relocatable classrooms. Based on enrollment trends, the student population will grow by more than 7,000 students in the next 10 years.
"During the past years, we've looked at strategies to increase our capacity in the buildings," Denton said. "We've converted computer labs into classrooms, using every available interspace in the current school buildings for instructional purposes. We've added relocatables to accommodate students beyond the space at regular schools. Now we're moving forward with the plan to build over 1,900 elementary seats in the next five years."
To increase capacity, an addition and renovation to Ashlawn Elementary School has started the design process, which will bring 225 seats by 2014. A 25-acre new elementary school at Williamsburg Middle School site with a capacity of 600 students will be completed in the fall of 2015. Three more construction projects — two additions to McKinley Elementary School and Arlington Traditional School and a new school at Kenmore Middle School campus — will provide a total of 1,050 seats by 2017.
"I think the process really continues with what we've laid out with the 'More Seats for More Students' campaign," said Murphy.
Every two years, APS develops a six-year Capital Improvement Plan to address future facility needs. At the core of CIP is the "More Seats for More Students" process initiated one year ago, in response to increasing enrollment by adding permanent building capacity and additional seats.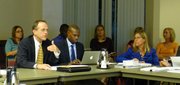 In the next few months, the School Board will make decisions on specific issues such as whether to have pre-school in the new school, whether to move programs and whether to move students that will start fifth grade in 2015 to a different school.
"Boundary changes are difficult," Denton said. "People love their school and often don't want to move to a new school. So the challenge is telling the community about the need for making boundary changes and then engaging them in the process and hopefully coming to a satisfactory solution at the end."
The board will start adjusting boundary and program changes in five elementary schools — Jamestown, Nottingham, Tuckahoe, Glebe and Taylor — that surround the new school at Williamsburg site. The school system will seek feedback through community meetings, PTA, civic associations, online surveys and social media.
"This is a very good process because we have laid out the scope, timing and community engagement process," said Emma Violand-Sanchez, chair of School Board. "So from that perspective, I think we're planning ahead."
More information about APS boundary changes will be available on www.apsva.us. Any questions and concerns will be addressed through email at moreseats@apsva.us.