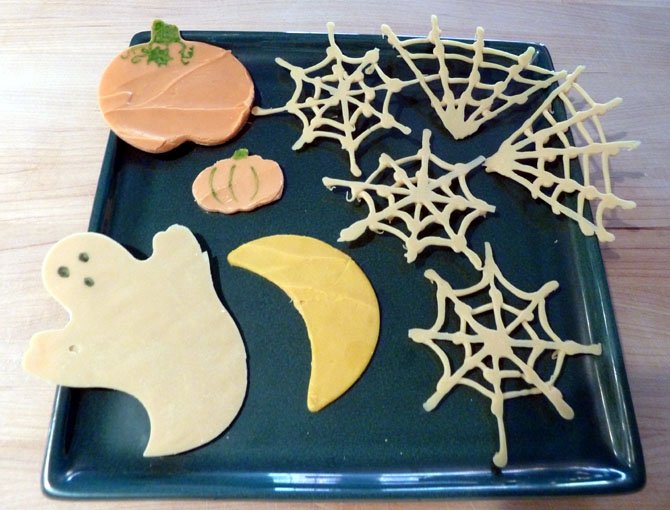 Arlington — Looking to add a bit of sugary fright to Halloween? From swamp juice and mummy pizza to haunted gingerbread houses and spider cupcakes, local culinary experts say ideas for frightful treats abound.
"Halloween is really a kids' holiday. It's fun and there are lots of ways to incorporate the holiday into cooking," said Holly Utt, director of operations for Tiny Chefs cooking school with classes in Potomac, Alexandria, McLean, Oakton, Springfield and Arlington.
Susan Hemphill, manager of Just Cakes in Bethesda, suggests adding a bit of spook to a traditional gingerbread house. "You can use gingerbread houses, but prepare icing and dye it black, orange or purple," she said. "Instead of using candy canes and gumdrops, use things like candy corns and licorice ropes candy in Halloween colors like black and oranges." Hemphill is offering a haunted house decorating class for children on Saturday, Oct. 27, at Just Cakes.
Tiny Chefs' Scarecrow Mix
Ingredients
4 cups crunchy oatmeal cereal squares (Quaker Oats)
4 cups tiny twist pretzels
1 (22 oz) bag autumn mix honey candy (candy corn mix)
2 cups M&Ms
2 bags microwave kettle corn
1 (6.6oz) bag Teddy Graham
Supplies
Measuring Cups
Large mixing bowl
Large spoons for mixing and serving
Directions
In a large bowl, combine all ingredients.

Serve
Christine Wisnewski, an instructor at Culinaria Cooking School in Vienna, Va. believes in moderating sweets on the most candied holiday of the year. "Given that Halloween has become synonymous with sugar-overload, I like to approach homemade Halloween treats with a 'less is more' approach,'" she said. "I am not a huge fan of cupcakes with heaps of too-sweet, neon-colored icing. I like to go light on the frosting or skip it all together [and instead use] a light glaze of dark chocolate ganache embellished with decorations made from melted white chocolate. White chocolate spider webs atop dark chocolate glazed cupcakes look great."
"Halloween is really a kids' holiday. It's fun and there are lots of ways to incorporate the holiday into cooking." — Holly Utt, Tiny Chefs
Utt believes that cooking classes can be educational while still maintaining a spooky spirit. A few of her tiny chefs made a pretzel-based snack called Scarecrow Mix recently. "We had an interesting discussion about why it is called scarecrow mix," said Utt. "We talked about how scarecrows have different parts that are put together. The pretzels could be the straw and they were trying to match the different parts with what could be the part of a scarecrow."
On Oct. 27, Tiny Chefs is offering a Halloween-themed cooking class for children at the Falls Church Community Center. "We'll make spooky treats galore, like Pizza Mummies, Edible Spiders & Swamp Juice to wash it all down," said Utt.
Creating Edible Spider Web Decorations
"First, find a very basic spider web image to serve as a template, or draw one yourself. Line a sheet pan with parchment or wax paper and slip the template under the paper. You should still be able to see the design. Melt 2 cups of white chocolate chips in the microwave for 30 seconds. Stir chips and continue heating in 10 second increments stirring after each interval, until chocolate is melted and smooth. Pour chocolate into a piping bag with a small pastry tip, or a small re-sealable bag. Snip off an 1/8" of an inch off the corner of the bag. Slowly trace over the spider web design with the white chocolate, making sure you connect all of the lines. Move the template and repeat with the remaining melted chocolate. Chill chocolate spider webs until firm. Gently pry spider webs off parchment and use them to decorate cupcakes. Piping requires a little bit of manual dexterity, so this project is best for older kids. Once you've got the hang of it, don't limit yourself to small spider webs. One large web atop a dark chocolate cake makes a striking decoration."
— Christine Wisnewski, Culinaria Cooking School