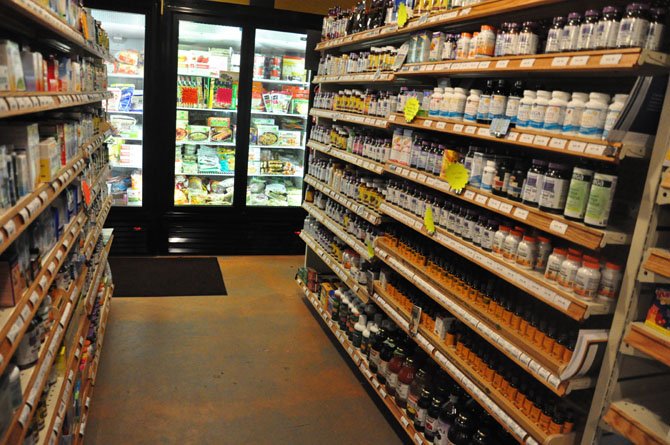 Great Falls — Growing up in Brooklyn, Denise Rodriguez became enchanted with the idea of community markets after growing up around the bodegas her father ran.
"When I was growing up, people knew their grocer, their butcher, their florist, they went to community markets," said Rodriguez, the owner and founder. "I've always had a passion for food, I love it, but am always interested in healthy alternatives. I started eating naturally about eight years ago, and realized how important the food you eat is to your quality of life."
Last year, she visited the grand opening of Havana Vintage, near the intersection of Walker Road and Colvin Run Road, and noticed a vacancy next door. After hearing the landlord was looking to find an organic market to put there, she jumped at the chance.
Salud opened in July and has already found a place in Great Falls. Rodriguez refers to Salud as a "healthy 7-11" or a "mini-Whole Foods," preferring a combination of grocery and convenience.
"I initially came here because I was interested in the health food aspect, but I've found a lot more. I love the Trickling Springs [a creamery in Chambersburg, Penn.] chocolate milk and ice cream especially," said Coletti Cosgrove of Great Falls. "And I love how they put out different samples every day. Whenever I come here, there's always something new to try."
Salud means "health" in Spanish, its healthy mindset was evident from the earliest days, it has zero volatile organic compound paint, low energy refrigerators, sustainable bamboo countertops and LED lighting.
JUST TO THE FRONT of the store is part of their grab and go section, featuring a variety of waters, teas, juices and specialty drinks like kombucha, a fermented tea drink from Marshall, Va.
They also have local produce, and further in the back, ready-made sandwiches that are delivered fresh by Sweetleaf.
"I love this place, I think it's great to be able to find so much at a neighborhood store, they have high quality choices, and they've really picked the best of the best when it comes to healthy food," said Lina Domian Hadar of Great Falls. "Everyone here is very knowledgeable and with a cheerful disposition, and they remember you. It's a great atmosphere for a neighborhood market."
Despite a relatively small square footage for a grocery store, it contains almost all of the staples of a regular market. Everything from canned goods, baking supplies, snacks (including hummus chips, fair trade chocolate bars and more) and locally roasted coffee, served fresh daily.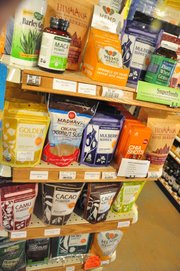 A feature the staff is particularly proud of is the olive oil bar. Featuring four varieties of Laconiko olive oil, regular, garlic, rosemary and blood orange, customers can select an empty bottle and fill it from the large dispenser with the flavor of their choice. Once the bottle is empty, customers can return and refill the bottle.
Many of the fixtures, such as the olive oil bar and the vintage wonder bread stand that holds a selection of handmade Spanish tortas, were selected by Rodriguez and her staff at various antique sales. The various tablecloths are made from bags of the coffee beans they purchase.
Their selection of beer and wines features organic wines, gluten-free beer, hard cider made with Virginia apples and even cocktail mixers that are corn syrup-free.
They're currently working on color coding the store to make shopping for gluten-free, nut-free, raw and other types of products easier.
A LARGE PORTION of the store is dedicated to nutrition as well, with all-natural supplements, minerals, and vitamins for women, men, children and seniors.
"We research every single item that we put on our shelves, and we try and keep the literature handy so people can do their own research if they'd like," Rodriguez said. "We're learning too, and we've stocked a few things that we later found out didn't match our philosophy, and we phased them out."
She said one of the more popular sections has been their sports nutrition items, which features plant-based proteins and organic nutritional shakes. Another section features their "super foods" such as goji berries, mulberries and golden berries.
More information on Salud Healthy Pantry can be found at www.saludhealthypantry.com.