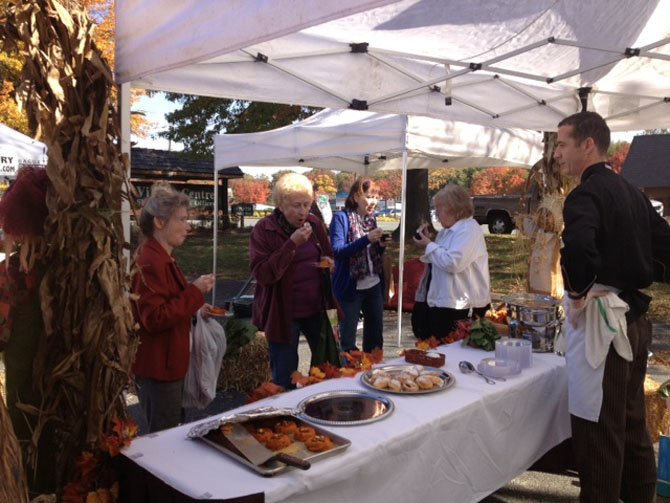 Great Falls — The Great Falls Farmers Market's Guest Chef program began last Saturday with a visit by The Old Brogue's Master Chef John Conway. Mike Kearney, owner of The Old Brogue, came to the farmers market early Saturday morning to check out the fresh produce. After planning the recipes to be prepared with Conway, Kearney returned to purchase the market items they would prepare for their visit at 11 a.m. Conway prepared an Irish Beef Stew with beef, potatoes and vegetables, seasoned to perfection; Sweet Potato Pie, a sweet-potato puree with five secret seasonings and a topping of tomato, garlic, goat cheese and other fine herbs; and a delicate and elegant apple turnover. Guests expressed their sheer delight as they enjoyed these exquisite "tastes."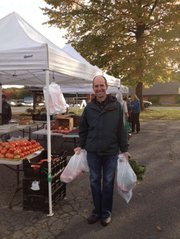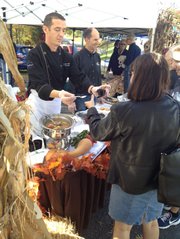 On Saturday, Oct. 27, the chef and owner of Dante Ristorante will be offering his gourmet interpretations of farmers market food from 10 a.m. to 1 p.m. (The market opens at 9 a.m).
Mediterranee Restaurant will visit on Nov. 3 from 10 a.m. to 1 p.m.; and the Tavern at Great Falls (9 to 10 a.m.) and Brix American Bistro (from 10 a.m. to 1 p.m.) will be visiting on Nov. 10. (The Serbian Crown and L'Auberge Chez Francoise will be visiting in the spring.)
The Great Falls Farmers Market was formed in responses to the Great Falls community's 2020 Vision Project's focus groups and survey in which residents expressed their desire to have a local farmers market as a way to eat fresh and local while enjoying a vibrant semi-rural village center. Great Falls is fortunate to have a number of locally-owned, one-of-a-kind restaurants completely dedicated to serving the local community and guests from surrounding villages, offering fresh seasonal dining experiences, imaginatively prepared, including The Old Brogue, Dante Ristorante, Serbian Crown Restaurant, Mediterranee Restaurant, The Tavern at Great Falls, Brix American Bistro and L'Auberge Chez Francoise.
This area is surrounded by local sources of fresh produce and fine dining possibilities. Choosing "local" strengthens our sense of community and enhances our family's experience of what it means to live in a small community and thrive as a semi-rural village. We invite you to come by and enjoy these local "tastes."