The chalk was provided, so all the students had to bring was their creativity. And create they did.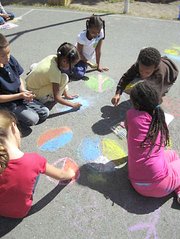 For nearly two hours on Monday, Sept. 24, more than 100 West Springfield Elementary School students expressed visualized peace on the blacktop during the school's third annual Chalk4Peace event. They filled the space with an explosion of colorful images—from four-foot flowers and giant hearts to basketballs and peace signs.
"I think peace means being happy and free. Everyone was drawing peace signs, so it was a peaceful event."
—Corbin Lathrop, 10
"The turnout was remarkable," said parent Karen Lathrop, a former WSES PTA board member. "The weather was perfect this year, and our school blacktop really came to life with dozens of colorful drawings."
Chalk4Peace is an international art project where young artists from around the globe share their visions of peace by chalking up sidewalks, school blacktops, playgrounds and other public spaces.
From its beginnings in 2003 in Arlington, as a Sunday sidewalk chalk project for children, Chalk4Peace has become a global campaign with thousands of young artists on four continents sharing their visions of peace. John Aaron, founder of the project, said the event is about letting children experience the joy of creativity and instilling a spirit of goodwill, rather than making a political statement. "It's a way to advocate for peace in a non-partisan way," Aaron said on the Chalk4Peace website.
The event has been recognized by the Arlington Arts Commission, the DC Commission for the Arts and Humanities, the DC mayor's office, the Humanities Project of Arlington and Whole Foods Markets.
"It was a cool, fun event," said Corbin Lathrop, 10, a fourth-grader at West Springfield Elementary School, who drew a basketball with a peace sign on it.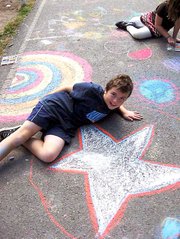 "I think peace means being happy and free. Everyone was drawing peace signs, so it was a peaceful event."
WSES Art Teacher Allison Whitbourne was instrumental in bringing the event to the school three years ago.
"I think Chalk for Peace helps children realize that they are all an important part of our community and that they can be a big influence on the world," Whitbourne said.
She said she talked to students in her art class about the concept of peace and how to express it through art.
"We had discussions about peace in art class before the event, and the kids all agreed that being peaceful is important in their home, school, community and ultimately having world peace," Whitbourne said. "The world is a better place when people are friendly, positive and happy and loving."
She said students were encouraged to draw symbols of peace and love, peaceful scenery, "colors that make them feel peaceful, and people of all types getting along."
For more information about Chalk4Peace, go to their website at www.chalk4peace.org.
More like this story