Over coffee and bagels Saturday, several civic-minded City of Fairfax residents peppered Del. David Bulova (D-37) with questions ranging from uranium mining and HOT lanes to voter ID laws and reproductive rights for women.
"What did you think about the 'war on women'?" asked constituent Peter Nuhn, "Did you get really mad? I mean, you have a daughter."
Bulova, who was hosting his first constituent coffee in preparation for the upcoming General Assembly session in January, said the question was a "cautionary tale" about voters paying more attention to off-year elections for state offices.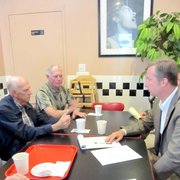 "The General Assembly is not anywhere near as gridlocked as Congress," Bulova said. "Bills get passed in the blink of an eye, and what gets passed really does affects your day-to-day life. So it's important that people vote in the state elections."
During a presidential election year, most voters are consumed by the horse race politics of who wins the White House trophy. By October, as the finish line approaches, every talking head, blogger, tweeter and print journalist is shouting out gaffes, missteps and miniscule shifts in momentum.
Upcoming Coffees
*October 20, 9-11 a.m. at Jireh Bakery and Café, 13848 Lee Highway, Centreville.
*Dec. 8, from 9-11 a.m. at Main Street Bagel, 10268 Main Street, City of Fairfax.
For more information, go to www.davidbulova.com.
IN FAIRFAX COUNTY and the City of Fairfax, where nearly 80 percent of registered voters actually vote in a presidential election year, the turnout is a less impressive 30 percent during off-year state elections.
And that fact distresses Bulova, who said he is frequently influenced by what his 80,000 or so constituents have to say.
"This is a critical time of year to get your ideas to your legislators," Bulova said, "We are accessible. If you want to make a difference, it's easy to have a voice and get involved, and what you say does matter."
Bulova said there's ample reason for voters to pay attention to what their legislators are doing in Richmond. He pointed out that nearly 850 bills were passed into law during the 2012 session, including bitterly-debated legislation requiring a woman to have an ultrasound before an abortion, new voter ID measures, and the repeal of the "one handgun a month" law, which eliminates Virginia's 19-year ban on the purchase of more than one handgun a month.
What's happening—or about to happen in the Virginia General Assembly—rarely gets attention these days, unless Jon Stewart of The Daily Show happens to show up and shine the spotlight on Virginia.
"When I first went down to Richmond in 2006, I remember coming home late at night and turning on the news, and the top story was what happened that day in the General Assembly," Bulova said. "With national politics to compete with, you just don't see that kind of coverage here in Northern Virginia."
Bulova has a reputation as a moderate bridge-builder and strategic thinker. He has a professional background in environmental and water resources planning, and currently serves on several committees, including Education, Natural Resources and General Laws.
"One of my favorite parts of being a delegate is having the opportunity to learn and hear different perspectives on the issues affecting our community," Bulova said.
When the conversation turned to education, one of Bulova's priorities, Tom Kennedy, a longtime City of Fairfax resident, said legislators should put more time and money into Northern Virginia's community college system.
"I hate to see us spend so much on UVA's problems. They have more money than God," Kennedy said, referring to what's now called "UVA June," the month that all eyes turned to the turmoil over the ouster and reinstatement of UVA President Teresa Sullivan. Like Kennedy, many constituents question why the General Assembly, whose budget funds just 7 percent of the University of Virginia's operations, gets to make 100 percent of the appointments to the Board of Visitors.
"It's our community colleges that give students who can't afford to go to the big schools a way to get there or get important technical skills," Kennedy said.
Bulova agreed that community colleges play a critical role in Northern Virginia. "When I met with the president of William and Mary this year, he said what we need you to do is protect community colleges because they don't have the alumni base (for funding)," Bulova said.
DURING THE TWO-HOUR coffee chat, Bulova listened, took notes and talked about his upcoming legislative initiatives, including a bill that would make texting and driving a primary offense. "We need to at least make it clear that you risk a reckless driving offense if you text and drive," Bulova said.
Bulova will be hosting two more coffees, and constituents are invited to talk about issues of interest and to ask questions about legislation affecting the community. The format is casual and no appointment is needed.