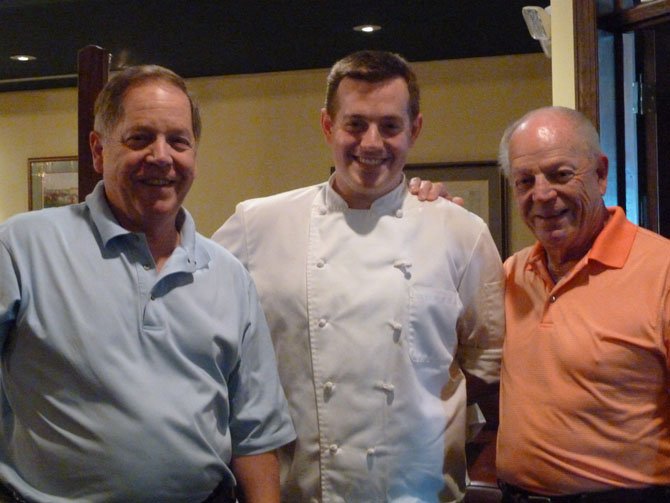 Potomac — Murray and Fred Berman purchased the iconic Potomac "Cheers" bar — Hunter's Inn — 10 years ago in October 2002. The restaurant, which was once located across the street in the Potomac Promenade was originally opened in 1977. It became known as "The Best Place to Meet," "The Best Place to Make a Deal," and one of the "Most Romantic Restaurants" in the D.C. area. Its bar extends almost the length of the "casual" side of the restaurant as well as a "formal" dining area. 
On the past nine anniversaries, Hunter's Inn has hosted a Happy Hour with free food and low-priced drinks for their customers. To celebrate their 10th anniversary, the Bermans have elected to donate 15 percent of their profits on Wednesday, Oct. 24 to the non-profit "Living with Childhood Leukemia." They have chosen this particular organization to honor and support 4 year-old Christopher Vita who was diagnosed a year ago with leukemia. 
Murray's spouse Sylvia explained why they have chosen to have their anniversary celebration help another family: "Christopher is a very brave little boy. His mother is a close friend of our daughter Jennifer. It's been a long year since Christopher was diagnosed, and his condition has improved. However, he still has a long road ahead of him. We want to help him and his family. We hope the community will plan to dine at Hunter's Inn on Wednesday, Oct. 24 to support this worthwhile cause. This is a very personal cause — unlike many fundraisers the money goes directly to help a family who lives nearby."
"Living with Childhood Leukemia" is a newly established 501(c)(3) foundation. The funds go directly to the Vita family to pay for medical expenses and other expenses incurred as a result of his illness. Christopher is being treated at Children's Hospital. All funds that are not used for treatment will be donated to Children's.
In addition to helping a good cause, diners will have an opportunity to try the cuisine of the new Hunter's Inn chef, Steven White. White graduated from Georgetown Prep and the University of Maryland but then chose to travel north to the Culinary Arts Institute at Le Cordon Bleu in Ottawa, Canada. His first job after graduation was with Chef Peter Timmins at the Greenbrier Resort.
White has been at Hunter's Inn for four months: "I've brought new items to the menu. I've kept the customer favorites but have added new specials for lunch and dinner. Monday is Italian night with homemade Italian cuisine such as Linguini Pescatore, Pork Chop Milanese and Tilapia Puttanesca. Tuesday is half-price wine night. On Wednesdays, we are featuring French night with classic French entrée's like Bouillabaise, Coq Au Vin and Steak Frites. Thursday evenings, we offer Mexican fare with steak fajitas, fish tacos with Napa Slaw, and half-priced margaritas all day. The price point is excellent with most main courses $20 and under."
Hunter's Inn also features Happy Hour every day from 4-7 with specially priced appetizers and drinks. "We make the biggest martini of any restaurant around — it's 10 ounces. We also have a wine collection of over 100-plus different bottles of wine," Fred Berman said. 
White has put an emphasis on serving fresh vegetables with his entrées as well as a number of new vegetarian menu items: "Since it is fall, I will be designing a seasonal menu featuring root vegetables, wild game and soups. Everything is freshly made each day from scratch."
Murray and Fred Berman have loved owning and operating Hunter's Inn for the past 10 years. "I love it, because most of the customers are also my friends," said Fred Berman. "We are both long-time Potomac residents and we often serve our neighbors, friends and the young people that our kids grew up and went to school with."
Murray Berman added, "We make people feel at home here. There's no better job than one where you get to see your friends and take care of them. Our diners come back over and over again."