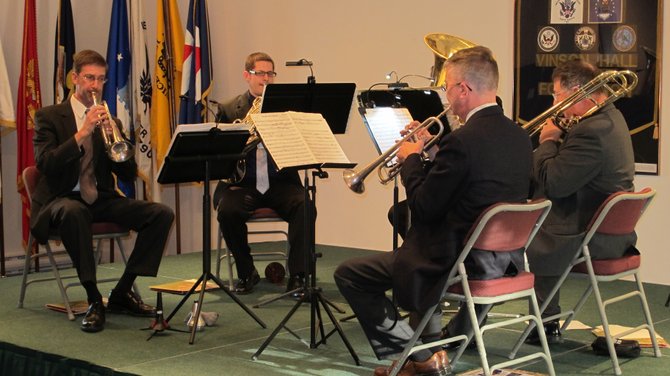 This past Veterans Day, Nov. 11, the McLean Orchestra once again honored America's veterans with their third annual "Salute to Our Military" concert at Vinson Hall Retirement Community. The McLean Orchestra Brass Quintet performed a fun and inspirational concert of patriotic favorites, including the music of American composers Henry Fillmore, Hoagy Carmichael, Scott Joplin, Buddy Holly, George M. Cohen and of course, John Philip Sousa, "The March King." The musical program concluded with A Salute to the Armed Forces during which all branches of the service were recognized while the residents of Vinson Hall stood to be honored for their service in their respective branches.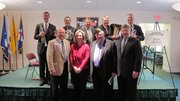 For the second year in a row, Del. Barbara Comstock (R-34) opened the ceremonies with a tribute to all those who have served our country and those who continue to be in harm's way today to keep us safe and free. After her speech, the audience, musicians and honored guests were led in The Pledge of Allegiance by Commander William Glenn Yarborough, Jr. of American Legion Post 270. During a post-concert Cake and Champagne reception for the residents, board members and musicians, Supervisor John Foust (D- Dranesville) gave a toast to all of the retired service men and women and their families who reside at Vinson Hall. The reception allowed the audience to meet the members of the McLean Orchestra Brass Quintet who are all current or retired members of the United States Air Force, Navy, Army or Marine Bands in Washington, D.C.
The generous contributions of Colonel Allan and Mrs. Lilian Jorgenson and McLean Orchestra Past President Wayne and Mrs. Linda Sharp made the concert possible. The McLean Orchestra will perform its next concert, Holiday Magic, on Dec. 8 and 9 at the Oakcrest School on Balls Hill Road in McLean. Visit the website at www.mclean-orchestra.org for ticket and concert information.