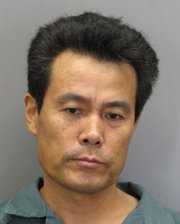 Despite the fact that Man Ha Park left his wife and daughter to run off with another woman, they both testified on his behalf before he was sentenced for murdering that woman's sister.
But neither their pleas nor tears could save him from being sentenced to 40 years in prison for a killing so brutal that the prosecutor called the crime scene "a blood bath — worse than in many horror movies."
The offense occurred June 6, 2011 and was actually a triple stabbing. The murder victim was Centreville resident Mihwa Kim, 49.
During Park's preliminary hearing, Sept. 7, 2011, the ex-girlfriend, Shanna Kim, 52, testified that Park stabbed both her and her sister and then tried killing himself, as well. She said he was armed with two long knives — a kitchen knife and a sushi knife.
The tragedy happened inside the Elms of Centreville apartment complex, across Braddock Road from the Old Centreville Crossing Shopping Center. Shanna Kim had known Park four years and he'd lived with her and her sister in that apartment — where Mihwa's husband and 14-year-old daughter also lived — until Park moved out, May 29, 2011.
Kim said they'd asked Park, a sushi chef, to leave because "he couldn't keep a job and wouldn't try." But in the early-morning hours of June 6, 2011, the two women were there alone, sleeping, when he returned. Shanna Kim was in a bedroom and Mihwa Kim was in the living room.
Awakened by noise around 5 a.m., Shanna Kim said she went to the living room and saw Park stabbing her sister several times.
"I screamed and my sister fell to the floor," she said. "Then he came over to me and I grabbed the knife," continued Kim. "I told him, 'Why are you killing my sister? You should kill me.' And he said, 'You die, too,' and he stabbed me in the tummy."
But she eventually managed to escape and get help and Park was soon arrested. On July 9, in Fairfax County Circuit Court, he pleaded guilty to first-degree murder and malicious wounding, returning Nov. 9 for sentencing. A Korean-language interpreter translated the proceedings for him.
At the outset, defense attorney Rebecca Lindroff noted the presence of some two dozen family members and friends there to support Park, including his son and daughter. She also called his ex-wife, Jum Sokkang, to testify.
Sokkang said they were married almost 23 years; they moved to the U.S. in August 1992, settling in California. "We weren't rich, but we had our son and daughter and we were happy," she said. In November 1997, they moved to Virginia, where a friend helped them start a business.
While she spoke, Park buried his head in his hands and cried, and Sokkang sobbed on the witness stand, as well. "We were very busy, but my husband spent his free time with the kids; he loved them very much. [Later on], he told me he had someone he had affection for, and I couldn't do anything but accept it."
Park then left his family and eventually divorced his wife. Said Sokkang: "He went to live a new life with another person." She said he'd never been violent toward her or their children, and she asked the judge to "show him some leniency."
"He did not stay in touch with you or the kids after he left, is that correct?" asked Assistant Commonwealth's Attorney J. David Gardy. "Yes," replied Sokkang.
Park's daughter, Joo Park, 22, also testified, recalling fond memories of family dinners, trips with her father and how he helped her with homework and came to her school concerts. She was also the first to learn that he'd strayed.
"I found out he was having an affair through a phone call," she said, noting that it made her angry and "incredibly sad." Then, voice shaking, she added, "He told me he loved someone else and wanted to live with her. He left that night."
The next time she saw her father was June 5, 2011 — the night before the murder. "He came to our house," said Joo Park. "He looked frantic and his voice was raised; he was talking really fast and stuttering. He hugged me, cried and said he was sorry. He said he couldn't come see me because he was ashamed, and then he left."
The next time she saw him, he was in jail; still, she also asked the judge for leniency. The attorneys then presented their arguments.
"We're sentencing Mr. Park today for an act of cold-blooded murder," said Gardy. "Shanna Kim is here today and is lucky to be alive. The defendant plunged a large knife into her with the intent to kill. It was a heinous crime, worse than many. [He] was in Oregon before this happened and, when Shanna Kim refused his overtures, he drove thousands of miles 'cross country to kill her and her sister."
Gardy said Park wrote out his "premeditated intent to kill" on notes found in his car and at the murder scene. He also said Park called Mihwa names and blamed her for his breakup with Shanna. Then, said Gardy, Park waited to strike until after Mihwa's husband left their Centreville apartment for work at 4 a.m., leaving their 14-year-old daughter, Mihwa and Shanna asleep.
"He brought his own large, scary knives to the scene, and this murder was essentially ambush-style," said Gardy. "Mihwa had 24 stab wounds; it was a savage attack, beyond violent and unimaginably brutal."
Furthermore, said the prosecutor, Park was "a selfish individual. He didn't take the sisters' feelings into account; he did what he thought was best for him. Your honor, if all it takes is a breakup to make him kill, then society will never be safe with this defendant on the street. A life sentence is appropriate for the life he took and to protect Shanna Kim from his obsession with her. She deserves to live a life in peace."
Calling the events of this case "truly a tragedy," Lindroff said Park has "profound remorse" and, if he could, "he'd take back all the pain and anguish he's caused." Except for the day of the crime, she said, he'd led "a noteworthy life with no history of crime or violence." And she noted that she'd submitted to the judge 36 letters on his behalf.
When he'd left his wife and children and extended network of friends, said Lindroff, "It was a tight-knit community, so his decision cast shame upon his entire family. In early 2011, Shanna asked him to move back to Northern Virginia, where her sister had encountered financial difficulties. [He did], but was afraid of running into his ex-wife and children [who lived in Oakton]."
However, on June 6, 2011, said Lindroff, "He was suddenly homeless with no job, family or friends. That was the final crack in his psyche. And when he was cast out [of the apartment in Centreville] by his loved one, it was the perfect storm of failure for him. It eroded his peaceful, rational life and he was sullen and angry."
Ultimately, said his attorney, "Mr. Park snapped. All his stressors became too much for him to bear. He became irrational, his thinking became more distorted and his unraveling led us here today. He'd lost everything that identified him as a human. Shanna was the reason he'd given up his good life; he couldn't just go on. After the crime, he was diagnosed as having had a severe depressive episode. He's 54 years old; this isn't a man beyond redemption."
Then, crying, Park stood and, via the interpreter, said, "I have committed a very big sin. I ask for forgiveness from everyone here." He said he was "possessed" by something and "not himself" when he committed the crimes. Apologizing to both sisters' families, Park said, "I've given a lot of pain to a lot of people and I'm very sorry for what I've done." He asked his ex-wife to forgive him and told his children, "Every time I think about you, my heart just breaks."
But Judge Robert Smith had the final word, sentencing Park to 40 years in prison for the murder and 20 years incarceration for the malicious wounding. He then ran the sentences concurrently and placed Park on three years post-release supervision.