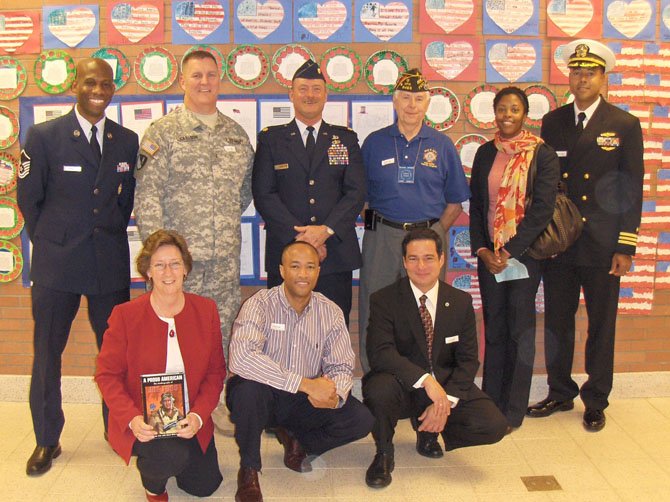 America officially celebrated Veterans Day on Monday, Nov. 12, and so did the students, teachers and staff of Colin Powell Elementary. They invited local veterans to the school, plus fire and police personnel, for their eighth annual Veterans Day Celebration.
In the school gym, students honored the veterans by reading short poems and essays they'd written, and second-graders and sixth-grade orchestra members feted them with patriotic songs and music. And decorating the halls outside the gym were student artwork in honor of Veterans Day, as well as essays in which students wrote why they're proud to be Americans.
"Today we come to honor those who've so bravely served our country in both peace and wartime, and we thank them for their service," said Principal Linda Clifford. "They stood ready to sacrifice life, itself, on our behalf."
Noting that the veterans present for Monday's event are from the school family and the local community, she said some are parents and grandparents of Colin Powell students. Said Clifford: "We honor them for standing up for the American spirit and their courage and dedication to protect the freedoms of our great nation."
SCA President Josh Valentino welcomed fellow students, teachers and veterans, and Girl Scout Troop 1852 presented the colors. SCA Vice-President Noah Tran gave the history of Veterans Day, and students held up signs representing each branch of the service while that branch's song was played and the veterans stood.
Guest speaker was Robert Mason, a Vietnam veteran who served as a Marine Corps advisor after the war. "Freedom is never free; we must always be willing to step up and protect it," he said. "During WWII, everyone played a part; the women workforce helped build up the country and its industry. Even children helped by collecting things such as milkweed, which was used for life vests aboard ships."
Mason listed all the wars, including the Cold War, in which the U.S. participated. "And all through it, we've always had the threat of terrorism," he said. "So, thank you, to the first responders here today. It's important that we maintain our freedom against all enemies, both foreign and domestic."
After WWII, said Mason, "The G.I. Bill paid for veterans to go to college, and our whole nation improved because of this great education level." He then presented Clifford with the book, "A Proud American," about military hero Joe Foss, for the school library.
Students in several second-grade classes sang patriotic songs and sixth-grade advanced-strings students performed, "America." Fifth-graders Seonmin Cho and Joseph Burton read their poems titled, "You Are," about soldiers' feelings and bravery during wartime.
Reading his essay, fourth-grader Daniel Carlson said, "In second grade, my dad had to go to the Iraq War to keep us safe and free. Thank you, Dad, and thank you, U.S.A." His father, Army CWO Mike Carlson, was in the audience, and his mother, Tara Carlson, teaches third grade at Colin Powell.
Likewise, classmate Dhwani Suriana said, "I'm proud to be an American because our veterans leave their families to protect our country. If we didn't have them, we wouldn't have as much freedom and power."
Sixth-graders Melissa Friedrich and Macy Owens also expressed their gratitude to the veterans. "Thank you for risking your lives to keep people you don't even know safe," said Melissa. "We're proud to call you veterans."
"Thank you for your miraculous courage to protect our country," said Macy. "Because of you, so many lives have been saved or made better. Every soldier in every American army makes a difference."
After the ceremony, Air Force veteran Mark Felder of Centreville's Faircrest community said he was in the Pentagon on Sept. 11, so this event "brought back some heartfelt memories. I have a second-grader here, Victoria, and I'm ecstatic that I could participate. It was an honor to see that our youth, particularly at this age, have the respect and admiration for the veterans who served our country."
"The students spoke of freedom and liberty, and a lot of them mentioned the sacrifices we all make," continued Felder. "And it makes it all worthwhile to know [they realize that] — especially when we're in harm's way or at great distances from our loved ones. It makes me proud to be an American."
Also happy was Air Force Master Sgt. Kevin Francis, who's been on active duty for 19 years. His daughter Kezia is in second grade at Colin Powell. "It was amazing — really outstanding," said Francis. "Every aspect of the program was heartwarming and touching."
He said the event instills patriotism and appreciation of service to one's country. So, said Francis, "We can be encouraged that, when it's time for the next generation to do its part, it will continue that legacy."
Jeffrey Miller, who retired from both the Marines and a California police department, has a son Josh in second-grade at Colin Powell. "This is my fifth time here for Veterans Day because my daughter Jennifer also went here; and every year, it's moving. "The support and appreciation is so open and sincere," said Miller. "It helps me feel that my 30 years of service were well-spent and appreciated."