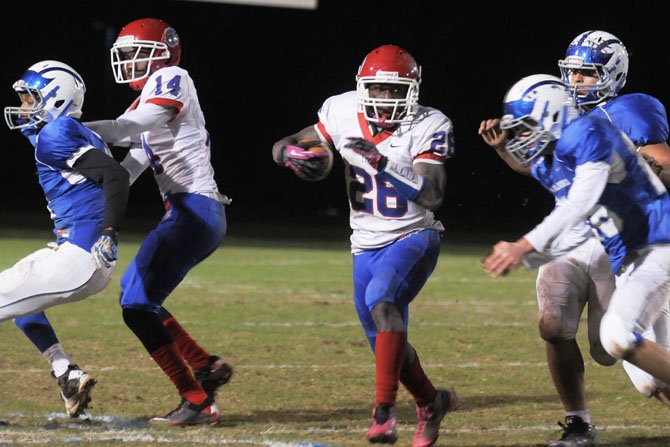 Mount Vernon — The T.C. Williams football team trailed 10-7 in overtime and faced second-and-goal at the West Potomac 8 when quarterback Alec Grosser threw a pass to receiver Landon Moss near the line of scrimmage. Moss made the catch, kept his footing on a slippery field and battled his way into the end zone.
Grosser's touchdown toss to Moss was a microcosm of T.C. Williams' final four games of the 2012 season. After starting 1-5, the Titans continued to fight. They won their next three games before traveling to West Potomac High School on Nov. 2 to close the regular season against the rival Wolverines, who just last year celebrated winning a share of the Patriot District title on the Titans' home field.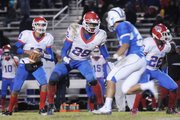 After a 48-minute defensive struggle on a muddy field led to overtime, Moss, a 6-foot-3 playmaker who had yet to catch a pass, willed his way across the goal line for a Titan victory.
"Coach told me fight for those last few yards if [I] get by the end zone," Moss said, "so that's what I did."
T.C. Williams defeated West Potomac, 13-10, on Friday night. The Titans, who stormed the field in celebration, finished the regular season with a four-game winning streak and a 5-5 record, but neither was enough to keep the program's playoff drought from reaching 22 seasons.
"It's kind of bittersweet because there's at least two or three of the teams that we should have beaten," TC Head Coach Dennis Randolph said. "We should be 6-4, 7-3 and we should be playing next week, but we're not and we didn't."
The TC defense kept the Titans in the game against a West Potomac team playing without standout running back Demornay Pierson-El, who sat out for precautionary reasons after suffering a leg injury two weeks prior. The Titans limited the Wolverines to seven points during regulation.
"Our defense played great," Randolph said. "They won the game for us today. … The defensive coaches and the defensive players, they stuck together when things were really tough for them [this season]. It was tough for all of us to lose five straight."
After winning their season opener, the Titans surrendered an average of 40 points per contest during a five-game losing streak. TC responded by limiting opponents to six points per game during its final four contests.
"We were a team that was [1-5]. Nobody believed in us. For us to come back and get better every week and now we're here 5-5, we made it happen."

— T.C. Williams running back Dealo Robertson
Against West Potomac, TC junior linebacker Kyreem Walton said the Titans wanted to avenge last year's loss to the Wolverines.
"It meant something this week," Walton said. "It was more than just going .500. We're trying to go to the playoffs. That's what we're hoping for. It was just about pride. Last year, they came on our field and celebrated so we wanted a little bit of payback."
Walton had a sack and a forced fumble for TC. Defensive back Tyrice Henry had 11 tackles, including 10 solos. Linebackers Ed Kargbo and Malik Carney had 11 and 10 tackles, respectively.
The Titans struggled on offense against West Potomac, but finally got on the scoreboard when Dealo Robertson reached the end zone on a 26-yard run in the fourth quarter. Zach Eisenhour's PAT tied the score at 7-7 with 3:49 remaining in the fourth quarter. Linebacker Kevin Perry set up Robertson's touchdown run with a fumble recovery.
TC limited West Potomac to a 31-yard field goal on the first possession of overtime, and the Titans won it two plays later with Moss' touchdown.
Robertson finished with 131 yards on 24 carries, including 123 yards on 16 carries in the second half.
"The terrain out here today was crazy," Robertson said. "On both sides of the ball … you put your foot in the ground, you fall. It was basically an uphill battle. Coach told us early on, we're going to run it, that's what we're going to do. He believed in me. He stuck with the run game and it opened up. … We were a team that was [1-5]. Nobody believed in us. For us to come back and get better every week and now we're here 5-5, we made it happen."