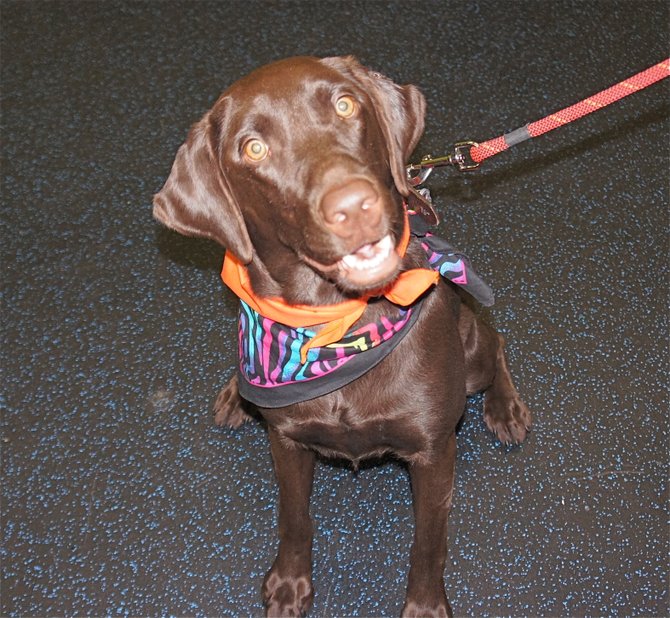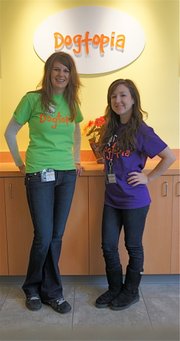 The grand opening celebration of Dogtopia in Springfield on Saturday, Nov. 3, had barely begun before a steady stream of party poochers were taking over the spacious lobby and accompanying their humans on staff-guided tours of the new facility. The furry invitees politely examined the spa rooms, play areas and crate accommodations for overnight guests, but it was obvious by all that nose twitching, tail wagging and gentle leash-tugging that the collected canines were anxious to get to the room where treats and toys awaited amid a mobile studio set up for free photos by Frame House Photography, partnering vendors like Becky's Pet Care and Colonial Animal Hospital, and even cake and other culinary delights for the fewer-footed .
Dogtopia is a leading national dog daycare and spa franchise founded by Amy Nichols when she opened the first dog daycare in Fairfax County, in Tysons Corner.
THIS SPRINGFIELD LOCATION, owned by Amber Sutton, represents the company's first multi-unit franchisee. Sutton left a job with NASA to open her Dogtopia in Woodbridge, Va. in 2008. "Yes, I took the leap and opened my own place, right at the start of the recession," said Sutton with a bit of a laugh. "Getting the banks to cooperate was difficult, but we made it. And things are good enough to make this new location the next logical step." Sutton lives in the district with her Australian shepherd mix, Zeke, who also attended the opening. In a company press release, Sutton pronounced herself to be "thrilled to expand my relationship with Dogtopia and continue to combine my business skills with my love for animals." During the celebration, Sutton admitted that a third location is already on her mind.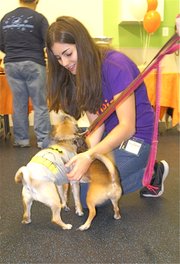 Laura Cruz, operations support specialist from the home office, was on hand to help out during the festivities. "Dogtopia corporate offers support on many levels," she said. "Prior to the openings, we also provide training to the staff and we ensure that each location meets the standards for all. We are all part of the brand," she added. "And we are all accountable to each other for our success, and for the health and happiness of our canine guests."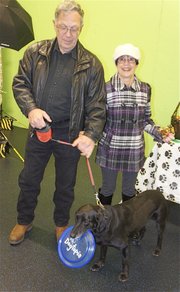 Dogtopia currently has 22 franchised locations and three company-owned operations, with four more slated for opening by year's end, and an ambitious growth plan for more franchised locations over the next seven years. Using a bright, upscale model that looks a lot like a little Johnny or Jane's pre-school, the facilities comprise multiple playrooms to better accommodate the differing sizes, ages and temperaments of those at play, and includes special flooring that's easier on joints and prevents slipping. There are even webcams installed in the playrooms so owners can check-in to be sure that their furry family member is, indeed, having a great time. All potential new playmates go through rigorous screening and must provide proof of appropriate vaccinations and certificate of health. Dogtopia doesn't "breed discriminate." Social dogs of all breeds are welcome.
While Saturday's event may have been primarily intended to introduce their services to the Springfield community, Sutton's staff also welcomed doggie day campers who currently attend the Woodbridge location, like chocolate lab Calypso. Calypso's "mom" and "dad," Jon and Beth Carpenter, have been taking him there for quite some time. "It's great energy management," was Jon Carpenter's comment. "And I think it has made him a friendlier, more social guy." The Carpenters plan to use the Springfield spot for convenience on the way to work.
AMBER SUTTON'S NEW DOGTOPIA is located at 7401 Fullerton Road, Site A, in Springfield. Information about Dogtopia is available online at dogdaycare.com and Sutton and her staff at both locations welcome poochy parents to come by for a visit. "It's really a fun place for all of us."