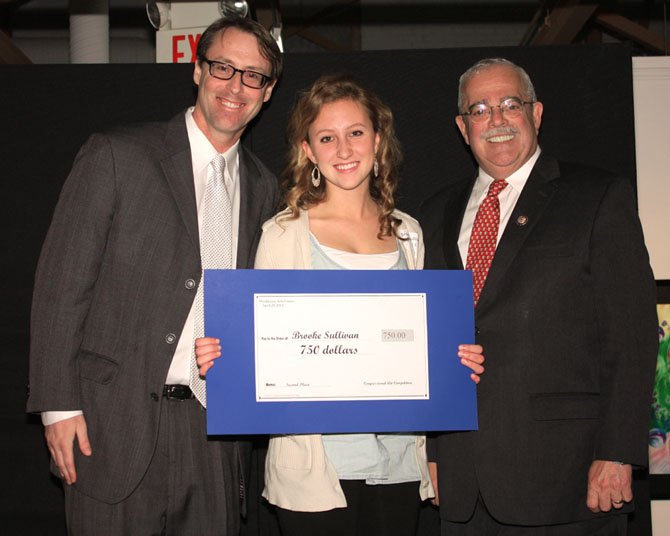 Five high school artists from Prince William and Fairfax won awards Saturday in Congressman Gerry Connolly's annual 11th District Congressional Art Competition. The artwork of the first prize winner – Hope Martin of Battlefield High School in Haymarket – will hang in the U.S. Capitol for the next year where it will be seen by hundreds of thousands.
Students who participated in the competition were recognized Saturday at a ceremony hosted by Congressman Connolly at the Lorton Workhouse Arts Center. More than 250 family members, students, and teachers joined Connolly at the reception to view the art work and congratulate the winners and honorable mention recipients. Each winner received a scholarship award.
This year's competition featured 162 pieces of art, submitted by high school students from across the 11th Congressional District of Virginia, and judged by accomplished artists representing the Arts Council of Fairfax County, Fairfax City Spotlight on the Arts, the Prince William Art Society, and the Lorton Arts Foundation. Connolly's annual Congressional art competition is open to public, private and home-schooled high school students in the 11th District.
Martin's first-prize winning charcoal work was titled "Awestruck." Winning second-place was Brooke Sullivan of Paul VI High School in the City of Fairfax. Third prize went to Emilia Blaszkiewicz of West Potomac High School in Alexandria. Oakton High School's Chan Song Yoon took fourth place, while the fifth place award went to Brianna Washington of Woodbridge High School.
Receiving honorable mentions for their art were: Catherine Winings of Woodbridge High School; Angelina Namkung of W.T. Woodson High School; Madeleine Bicker of Lake Braddock Secondary School; Bryan Dunbar of South County Secondary School; and Jae-in Lee of Battlefield High School.
All of the students' artwork was displayed at the Lorton Workhouse Arts Center for two weeks in April. "The quality of the artwork by these students is exceptional," Connolly said. "While every artist couldn't win the competition, all of these students should be proud of their submissions. I congratulate every student for their talent and effort, and commend every teacher for nurturing the talent exhibited in this competition."


Judging the contest were: Emily Hawes of the Prince William Arts Society; Joanna Ormesher of the Fairfax City Spotlight on the Arts; Amy Lust of the Lorton Arts Foundation; and Lillianne Milgrom of the Arts Council of Fairfax County. Connolly thanked the staff at the Lorton Workhouse, the judges, and the teachers and parents who motivate the young artists, for their dedication to the arts.