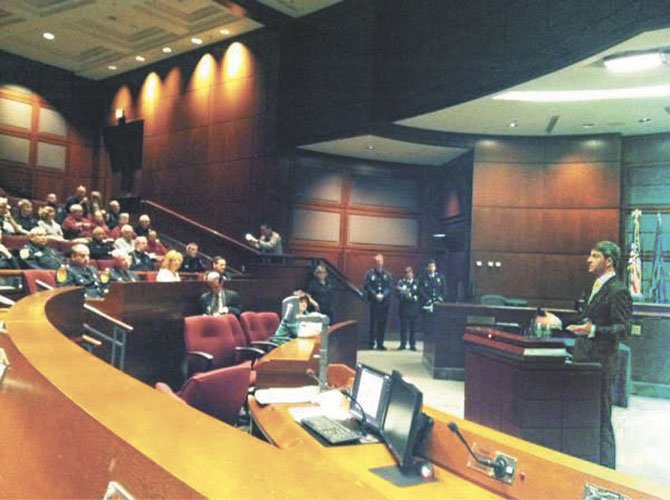 Be a Volunteer Police Officer
Interested in assisting law enforcement officers? Learn more about the duties and rewards of becoming one of these essential volunteer officers. The Fairfax County Auxiliary Police Unit is currently accepting applications. The next APO Basic Academy is set to begin January of 2013. If you are interested in applying, or learning more, email AuxiliaryPolice@F... or go to http://www.fairfa..., and a member of the Auxiliary Police Unit will contact you.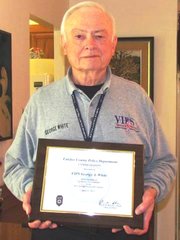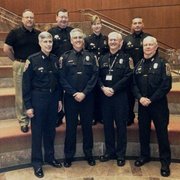 "We need a big golden arch, like McDonald's, and a sign that says more than one million served."
Fairfax County Police Chief, Col. David Rohrer, was referring to the milestone achieved by the county's Auxiliary Police Officers (APOs) during a recent ceremony honoring FCPD volunteers.
"You are part of our family," Rohrer said to the nearly 50 volunteers at the April 13 ceremony held in the Fairfax County Government Center. "We have great people and we're blessed to serve such a caring and engaged community." He noted that volunteers at police stations throughout the county complete the tasks of 31 full time jobs.


THE CEREMONY, which included remarks by Virginia Attorney General Ken Cuccinelli, saluted APOs as well as Volunteers in Police Service (VIPS) officers. Volunteer hours for 2011 totaled 64,670 hours.
"I always try to attend these ceremonies," said Cuccinelli, who was late to the ceremony because he was stuck in traffic coming from Richmond. "They absolutely deserve to be recognized for the special service they provide to enhance the safety of our community."
Rohrer said surpassing one million hours of service for the APO program was a significant achievement for the FCPD.
"The milestone highlights the dedication and sacrifices these exceptional volunteers have made and continue to make to improve the department and the community," Rohrer said. Since the program was established in 1983, a total of 446 APOS have served. "These men and women have answered the call to assist in all manner of events and natural disasters to ease the burden on paid officers," Rohrer said.
Greenspring resident George White, who has spent more than four years volunteering at the West Springfield District police station as a VIPS, was one of only two volunteers who were awarded a special commendation recognizing exemplary performance. White volunteers approximately 70-80 hours per month working under a logistics specialist at the West Springfield police station. He helps to maintain more than 85 police vehicles at the station by doing minor maintenance on-site at the station - changing tires, replacing batteries and lights.
"These cruisers are essentially their offices, where the officers conduct their business," White said, stating the importance of operating vehicles that perform as expected. His service doesn't end there; White is willing and able to step in with whatever is needed at the station including setting up electronic signal boards or helping with general projects around the station.
After having spent 30 years in the Air Force, White finds that there are similarities to police and military work. "I volunteer because I like the similarities to my military background and I feel like I'm doing something important to the police mission," White said.
"I've liked the work very much," said White. "And the commanders are really appreciative and caring." One example of the concern for the volunteers is evident through the requirement by the West Springfield station commander that the VIPS wear bullet-proof vests for safety while driving police vehicles to the garage.
Franconia Station Assistant Commander Lieutenant William "Jake" Jacoby said he was proud that seven APOS assigned to the station were recognized during the ceremony.
"It was great to see all the men and women being honored for their hard work, dedication and sacrifice in serving the citizens of Fairfax County," Jacoby said. Lead APO Athena Caul was presented with the award for Auxiliary Police Officer of the Year; Thomas Oliver was awarded APO of the Year in the Crime Prevention category, and also was recognized for completion of 7,500 service hours; Anthony Butera received APO of the Year in the Training category for his hours of teaching officers about prescription drug abuse and laws; APO Curtis Velasquez was awarded a Commendation. Velasquez is an active duty United States Air Force Lieutenant Colonel and pilot and has provided many hours of service assisting officers in active shooter training, according to Jacoby.


COMPLETION OF MILESTONES in service hours were also awarded to APO Richard Majauskas with 2,500 hours, and APO Gary Gaal and APO Robert Reece both with 5,000.