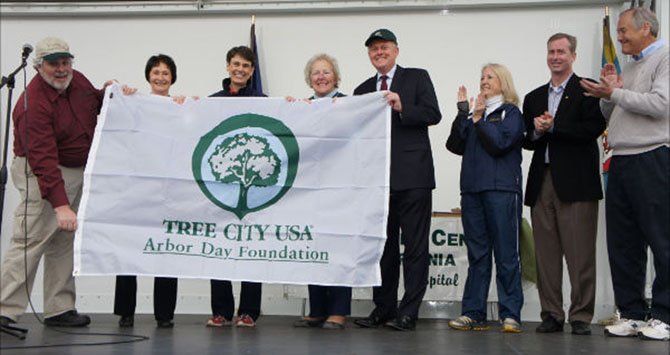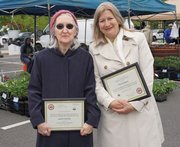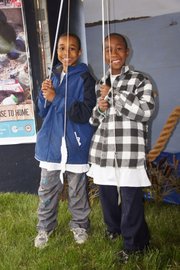 A fundamental part of the mission of the Clean Fairfax Council is to "encourage environmental stewardship and urban sustainability" in Fairfax County, working in partnership with numerous governmental agencies and volunteer groups. As the organizers of the Fairfax County Earth Day/Arbor Day celebration for more than 10 years, the Council insured that the 2012 event, held on Saturday, April 28 at the Fairfax County Government Center was loaded with educational workshops, demonstrations, exhibits, food and fun.
According to Ben Boxer, Public Information Officer with the Fairfax County Department of Public Works and Environmental Services, every day is Earth Day/Arbor Day. It's just a matter of spreading the word. "Earth Day is about what we can do, not just what a government department can do," said Boxer. "Most people are happy to participate. They just don't know what they can do as individuals," he added.
Boxer and colleagues manned a tent that showcased their work on the eleven Certified Green Buildings in the County, including the vegetative roof at the Dolley Madison Library in McLean. The younger crowd was entertained by an educational "fishing hole" and a puppet show. The DPW also sponsored secured document shredding.
The Fairfax County Urban Forestry Management Division and Virginia Department of Urban Forestry conducted tree identification walks and pruning and planting demonstrations throughout the day. Representing the animal kingdom of the County were staff from Reptiles Alive and the Wildlife Center of Virginia who took to the stage with some of their slithery and furry friends, introducing the audience to some of our native non-human neighbors.
Despite the chill in the air and the threat of rain, there were plenty of dignitaries on hand. Sharon Bulova, Chairman of the Fairfax County Board of Supervisors, began the reading of the Board's unanimously approved Earth Day/Arbor Day Proclamation. "There are plenty of 'whereas's' in here," laughed Bulova " so I will pass this down and let everyone take a turn." Other members of the Board, as well as members of the Virginia General Assembly representing Fairfax County districts assisted in the reading. Along with James McGlone of the Department of Forestry, the group also presented several awards for outstanding community service and unfurled the banner declaring that Fairfax County has once again earned the distinction of being a Tree City USA.
All of the exhibitors and agencies urged County residents to see just how important and easy it is to get involved in the protection of our local natural resources. The Cleanfairfax.org website is a great place to get started.