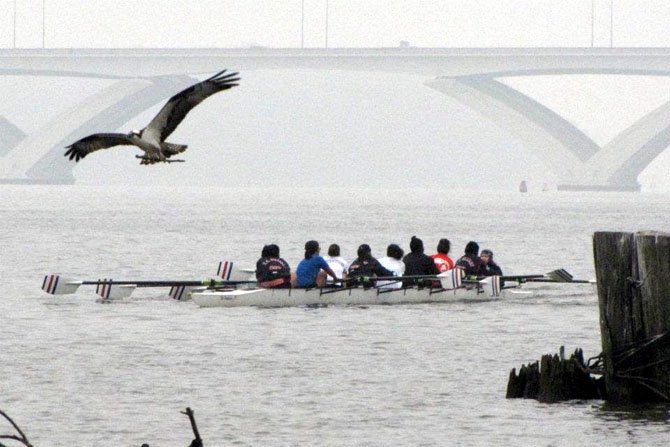 The T.C. Williams crew team kicked off the spring 2012 rowing season on March 24 at the Dee Campbell Boathouse in Old Town with its first and only home regatta of the year — a scrimmage against longtime rival Washington-Lee that not only provided the Titan rowers with, in the words of boys' head coach Pete Stramese, "a good litmus test" to start the season, but left both Stramese and girls head coach Mercedes Kiss feeling confident about the team's prospects moving forward this spring.
"W-L coach Derek Parson's crews are perennial favorites in the hunt for medals at Virginia Championships," Stramese said, "and his returning Junior 8 National Champions showed great composure in the 1V [first varsity] race. T.C.'s 1V was four seconds off the winners, with many guys out for other activities, so I'm confident we're on the right path this season.
"In the lower boat races, those crews turned in solid performances, which, while not overtly successful, gave the guys an opportunity to assess their speed and the work that needs to be done. We're very early in the season, and these margins can be closed with the volume of work we have planned over spring break next week. We'll see W-L again, so this will be a good litmus test for our progress."
Coach Kiss — a former Titan rower who won Washington Post All-Met and All-Virginia honors during her senior year and is now in her second year guiding the T.C. Williams girls' crew — was equally upbeat about her crew's performance this weekend and their chances this season.
"The races between T.C. and W-L went off without a hitch," Kiss said, "and we even finished ahead of schedule due to great weather, efficient officials, and focused rowers and coxswains. I am very proud of how our rowers performed on the water and how the entire team hosted our long-standing friendly rival. If Saturday stands as an indication of the season ahead, then our Titan family should look forward to many weeks of exciting races and successful finishes."
Following Saturday's scrimmage against W-L, the Alexandria Crew Boosters held a ceremony to christen the two newest racing shells in the T.C. crew fleet — the "Jeff Byron" and the "Peter W. Hearding." Byron is a longtime supporter of the T.C. crew program who serves as the director of the MidAtlantic Erg Sprints, which has grown to become not just the third-largest indoor rowing competition in the world, but the world's largest indoor junior rowing competition, as well. Hearding is a former Titan All-Met rower and current assistant boys' crew coach, who has guided his boats to Virginia state championships in 2005, 2007, 2008, 2010 and 2011.
A crowd of more than 200 rowers, parents and supporters turned out for Saturday's events, which concluded with a reception in the Boathouse featuring fried chicken from the Blue & White Carryout on Wythe Street and food prepared and served by a cadre of parents and volunteers. Among those attending were T.C. Williams athletic director Steve Colantuoni, Alexandria Vice Mayor Kerry Donley, Alexandria City Councilman Frank Fannon, and Alexandria School Board Chairwoman Sheryl Gorsuch.
Both Coach Kiss and Coach Stramese expressed their appreciation for the people who turned out and the support shown for the T.C. Crew program.
"The dedication ceremony of two 4-man shells, the 'Jeff Byron' and the 'Peter W. Hearding' was a gathering of our vast Titan rowing community," Kiss stated. "The speeches were heartfelt and humorous, and the reception was a true stunner."
Stramese echoed Kiss's remarks.
"The christening was a heartfelt tribute to two longtime contributors to the Titan Family," he said. "Jeff Byron has done a tremendous job in expanding the Mid Atlantic Erg Sprints to become the largest indoor junior's race in the world, and our largest fundraiser for Titan Rowing. Jeff has filled many roles over the years, and his devotion to the program really is his hallmark. Peter Hearding's contribution as varsity coach has touched many lives of many rowers, brought renewed success to the boys' team, and furthered the continued commitment to rowing in Alexandria. As a coach for the T.C. program, Alexandria Community Rowing, and the Old Dominion Select Crew Program, he's always brought the best from his athletes, helping them discover themselves as athletes. As a T.C. alum, I think he brings the goal of doing your best full circle."
The T.C. Williams Crew team's next regatta is this March 31 on Noxontown Pond at St. Andrews School in Middletown, Del.
The spring 2012 crew season marks the 65th year of public school rowing in the City of Alexandria.